In Queen & Slim, director Melina Matsoukas wastes no time getting into the action; after a brief introduction to our leads over a diner date, the pair are pulled over by a white cop, who they unintentionally kill in self-defence. From that moment on, it's Queen (Jodie Turner-Smith) and Slim (Daniel Kaluuya) against white America as the newly-crowned fugitives flee across the country.
The premise has all the makings for an action flick, one that most screenwriters would fill with plenty of car chases and close calls. But Matsoukas and writer Lena Waithe prefer to play it slow. Cinematographer Tat Radcliffe reveals to us the vastness of the United States, giving the titular duo room to roam. At times, their escape from authority appears to give them unrestricted freedom as they jump from one safe house to another, often to the beat of a varied road trip playlist.
Not that the lack of action manages to ground Queen & Slim in any sense of realism. On the contrary, Matsoukas evidently prefers the abstract. Voiceovers between the leads occasionally fail to match the movements of their mouths, while their esoteric tangents tend to be more consumed with life musings than dramatic tension. At times, the film even echoes the stillness of Barry Jenkins' If Beale Street Could Talk, especially as Queen and Slim (names they only earn during the end credits) discover the romantic chemistry they were denied on their first date.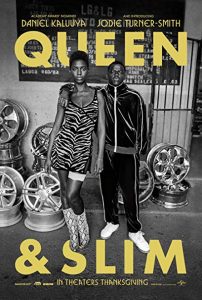 This is unequivocally a political film, with Queen and Slim's accidental homicide and infamy making them symbols of black power rising up against white oppression. It's a film that very much belongs to the present Black Lives Matter movement, condemning white America for its distrust and violence towards African Americans. But while the film's premise is, for lack of a better phrase, black and white in terms of its positioning, not all the events that follow are so simple.
Matsoukas and co. make intentional choices about which characters hold the power, money or weapons; the obvious target of white policemen are sometimes substituted for black male officers, white women, and scrawny male gas station attendants. Similarly, character empathy for Queen and Slim isn't always colour-coded, notable when Red Hot Chili Peppers bassist Flea (as Mr. Shepherd) helps shield the duo from trouble. It isn't always clear what the writing team is trying to say through these choices. Nor is it clear whether they are condoning violence through their mythologising of Queen and Slim as freedom fighters. Likewise, the film's brief subplot about Junior (Jahi Di'Allo Winston), a boy whose admiration for Queen and Slim goes a step too far, muddies the water even further.
From the vantage point of a gun-free Australia, it's difficult to know whether Queen & Slim is an accurate reflection of America's race crisis or an over-simplified representation, dialled up a notch for creative effect. Regardless, it's an intriguing film that takes the fugitive trope in a completely new direction, giving audience plenty to think about in the process.
Queen & Slim is in cinemas from 12th March through Universal Pictures.