In the grand tradition of fictional detectives, Miss Phryne Fisher is second to none. A private lady detective, she made herself useful driving an ambulance on the battlefields of the Great War, inherited a king's ransom after the death of a wealthy relative, and is living large in Marvellous Melbourne solving crimes, getting under the skin of the constabulary, and being fabulous. Miss Fisher's first adventure appeared in the novels of Kerry Greenwood in 1989, with an ABC television adaptation hitting screens in Australia in 2012, before making their way to 120 territories around the world. Ending a third series in 2015, eager fans were desperate for more Phryne adventures, contributing over $1.5 million to crowd funding campaigns to bring their favourite murder-solving heiress to the big screen. Full disclosure, I myself contributed a small sum to the initial campaign, which makes it all the harder for me to admit that the five year wait was not worth it.
One of the things that appear annoyingly convenient about the Honourable Miss Fisher (brought to life by the effervescent and faultlessly Phryne Essie Davis) at first glance is that she is perfect and charmed in every way, with no flaws and no limits to her innumerable skills. She can drive race cars, she can fly planes, she knows about art because she was an artist's muse, she speaks Chinese, Russian and French, and has more money than a Sultan but also grew up on the means streets of Collingwood. But then it clicks; this is a woman living in post First World War Melbourne, fighting gender inequality, living an independent life (much to the chagrin of her family, namely prudish Aunt Prudence, delightfully portrayed by Miriam Margolyes) and most importantly, she never needs a man to save her. This is the female hero we have been waiting for, and she's fighting dodgy back street abortionists, Latvian mobsters and murderous carnies, all in haute couture and high heels. Once you get it you're in her world, hook line and sinker.
All of this however was unfortunately forgotten in series regular contributor Deb Cox's plotting of Miss Fisher and the Crypt of Tears. This incredibly Chritie-esque big screen mystery strays too far from the source material that birthed the incredible series and the resulting plot is so simple but muddled it has the appearance of being incredibly complicated, but is in fact completely lacking in substance and intrigue. Somewhat supernatural themes pop up in this genre all the time, but here they are never addressed or are fobbed off completely with false a-ha moments as if unquestionable and irrelevant. The film has moments of almost being a ridiculous exploitation film, which would have been perfect for our rather Pulp Heroine, but then slots straight back into dull British Balls full of dull British characters who are so one dimensional they seem almost irrelevant to the plot. All of this even dulls the gorgeous interiors of the Werribee Mansion which should appear sumptuous and elegant in this setting but are instead lacking.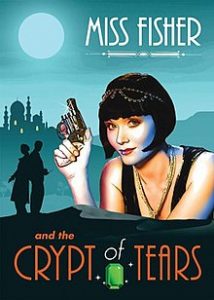 The central relationship at the heart of the series' popularity, that of Phryne and her begrudging Detective Inspector Jack Robinson (brought to life once more by the indelible Nathan Page, with his swoon worthy baritone and incredible cheek bones… hmm, excuse me), is laboured and tedious, forcing the tired "will they won't they" dynamic instead of letting the characters act in a way that would be natural to them. For instance, Jack travels from Australia to England to attend what he thinks is Phryne's funeral only for her to land a plane in the middle of his eulogy. In the series when he thought she had died in a car accident he took several episodes to get over the incident and start working with her again.
And herein lies the problem at the crux of this film adaptation; we know these characters too well for them to be used as mere plot devises for an indulgent shoot in an exotic location. A few nods to the fans doesn't make a substance free plot travelling around Jerusalem stand-in Morocco willy-nilly exciting, interesting or intriguing. Phryne has hardly any moments of true sleuthing, kicks hardly any butt, doesn't deliver any memorable sass and at one point has to be pulled out of an emotional moment by Jack. That's not our Phryne; she doesn't need a man to help her with anything.
Even the usually envy-inducing wardrobe feels minuscule in comparison to the series, illuminating the reliance this production had on its locations. It seems the production was so focused on the exotic locales afforded them in Morocco they did little more than use these beloved characters to create a passable movie length episode of a show set transplanted from Melbourne to Jerusalem for no pressing or passable reason. If two more of these films are indeed in the works I would hope the filmmakers attempt to capture some of the magic of the series, setting at least some of the action in Melbourne with the beloved ensemble cast afforded more than two lines of exposition, and an almost Sex and the City level of costumes changes.
Miss Fisher and the Crypt of Tears is in cinemas from 27th February through Roadshow.