Noël Coward may have written the comedy Present Laughter as a parody of his own fame in the early 20th century, but his play could just as easily be a commentary on growing up online in the 21st century. Exploring vanity, fame, loneliness in a crowd and the blurred line between fiction and authenticity in building identities, Present Laughter is evergreen in its relevance. Garry Essendine, played in a virtuoso performance by Andrew Scott, may have turned 40, but he indulges a youthful lifestyle as a star of the stage. And before he embarks on a theatrical tour of Africa he must negotiate a flood of friends, lovers and admirers pouring through his apartment door. What plays out is pretty much a real-life version of the incessant dings, pops and drumming ellipses that might piss you off over a particularly gossipy night on the phone. Sooner or later you just wish everyone would go away.
Of course it was tougher to do this in wartime London when people would just turn up at your door if they were determined enough to puncture any hope of peace and quiet. Such is Garry's conundrum. His wife, Liz (Indira Varma), has unofficially left him but retains a close concern for Garry's wellbeing. With an easy charm and the inability to utter an honest no, Garry doesn't do himself many favours when time and again he is required to disentangle himself from the previous night's promises, and this particular morning is turning out to be one of the worst. A smitten young woman called Daphne has hung around; soon more will be hiding behind doors, others still arriving, yet more threatening to. Garry is a victim of both his own need for company and the neediness of others (an anagram of 'Essendine' if you hadn't noticed).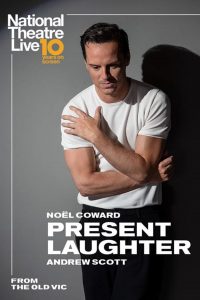 To an introvert this relentless noise might well be classed as horror. Certainly Garry is on the verge of a breakdown, and the ensemble cast can be tiring in their earnestness at times. Intentional as this may be, Present Laughter under Matthew Warchus's direction can lay it on rather thick early on with the extended sparring and snide remarks. But whatever tendencies to overact are indulged before the interval, they are forgiven beyond it as the true cost of Garry's fame becomes clear. 'Intrigue!' he cries in exasperation, 'My whole life is enmeshed in intrigue', complaining that he is 'bloated' by the confidences of others. Part of Garry's trouble is that, in being known for his acting (and overacting), no-one quite understands when he is being genuine. He is forever being defined by the expectations of others, and so his relationships are inherently flawed.
While these identity themes may resonate today, Warchus has updated the play in at least a few ways, the most notable being that a key love interest of Garry's, Joanne, is now Joe, a dashing Frenchman (Enzo Cilenti), thus rendering Garry bisexual. It's an interesting amendment to the group dynamic that also has ramifications for further role reversals. Primarily, however, it seems to be a nod to the strictures that Coward was working within at the time he wrote this play and the claim by Coward, who never publicly acknowledged his homosexuality, that Garry was indeed a loose caricature of himself. That it makes for a narrative less specifically discriminatory of women and instead spreads the immorality across both genders is also welcome, even if this could never be a perfect fix.
Ultimately this is a play that lives and dies on its lead, and Scott's performance in capturing the breadth of Coward's wit and the accompanying emotional roller coaster is a deft balancing act that veers from farce to moments of acute introspection. He maintains a furious energy for all three hours in a mammoth effort. This is particularly impressive owing to how little help he gets from an ensemble of characters who, while good value, are little more than passing punchlines. The exception is Liz, who in the hands of Varma embodies a thankless maturity in the midst of so much chaos, narcissism and ignorance. Coward's ear for verbal jousting is impressive, as is Warchus's admirable attempt to relieve a play of tired stereotypes, but it is Scott and Varma and a show-stopping final act that make this is a must-see.
National Theatre Live: Present Laughter screens for a limited time from 1st February through Sharmill Films.