Rose Byrne and Tiffany Haddish star in Miguel Arteta's Like a Boss, the latest chick flick to remind us that female friendships matter and women can be empowered career women who don't need no man. The release of the trailer resulted in rather low expectations for this reviewer but it must be said, the film isn't awful.
Haddish and Byrne play Mia and Mel, besties who started up and now run their own make-up company. While they have very different approaches to the business, they both believe in their products and want women to feel good about themselves. They are, however, in considerable debt, and are offered a lifeline by Claire Luna (Salma Hayek), head of beauty conglomerate Oviedo, who offers to invest substantially in their company. She stipulates that should the two of them cease to be friends, they will hand over their majority share. It's not hard to guess the narrative trajectory from here.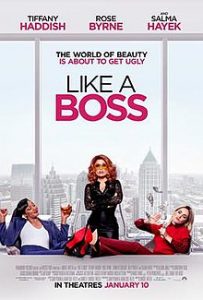 While it's all very predictable, Like a Boss, the feature debut of screenwriters Sam Pitman and Adam Cole-Kelly, doesn't require as substantial a suspension of disbelief as other films of similar ilk. [See Jennifer Lopez's Second Act – which had one of the dumbest narrative developments ever seen on film]. While it offers a slightly simplified representation of reality with a few far-fetched moments, it's not completely ridiculous. That's not to say it's without flaws; Salma Hayek's Claire Luna is awfully one-dimensional, and her motivations don't make a whole lot of sense unless you buy into the notion that some people are quite simply horrible and thrive on destroying other people. The ending is rather convenient and easy but it's nice enough for its target audience to accept and enjoy.
The humour is hit and miss, but Like a Boss has enough laughs to satiate an audience keen to see women represented in all their weed-smoking, casual sex-having, mistake-making glory. Byrne and Haddish have good chemistry, and are ably supported by a strong supporting class including the always sublime Billy Porter. Jennifer Coolidge plays the same role she always does – and really is anyone still finding it amusing? – but Natasha Rothwell, Catherine Parker and Ari Graynor as Mia and Mel's fellow gal pals add value.
Ultimately, Like a Boss succeeds in its lifting up of women and the celebration of their friendships. It's not high art but it isn't meant to be. No doubt its reviews won't be kind due to many critics attacking these sorts of films on principle, but women looking for an entertaining escape should appreciate its efforts.
Like a Boss is in cinemas from 23rd January through Paramount Pictures.