The current headliner of the Aardman Animations Studio is the raucous A Shaun the Sheep Movie: Farmageddon. This is the lamb's second foray onto the big screen and, until Chicken Run 2 comes out this year, is the studio's only sequel.
Puns and slapstick can be found galore in this cheery tale of Shaun meets ET. It's not quite a rip-off thanks to the lack of Steven Spielberg young-family-in-the-80s vibe. There's plenty of decade old references that will fly over the target audience just for us adults, from Contact to 2001: A Space Odyssey and a just legally dissimilar enough X-Files riff.
As with any Aardman film, the claymation is one of the biggest drawing cards and is always delightful. The anthropormophising of the farm yard animals is wholesome and totally connects with the inner child. No doubt the actual children in the audience will love it.
The story itself is a very light-hearted affair, maybe a tad too much. Shaun and his cohort are causing their usual chaos on the farm while in the nearby town UFO mania is sweeping the municipality after an extraterrestrial sighting. It's not long until Shaun encounters the amorphous telekinetic, telepathic alien, Lu-La, in a barn yard. They bond quickly and indulge in some shenanigans that kids will love but drags a little for us adults.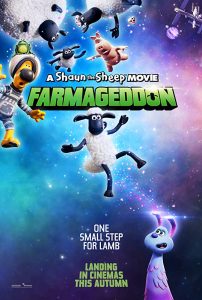 It transpires that Lu-La is an adolescent, lost on earth after an interstellar joy ride in the parents' space ship. As the affable sheep attempt to get Lu-La home, a team of shady Men in Black-like agents try to capture the alien, led by a slightly ruthless boss. Expect plenty of debacles and shenanigans from her incompetent employees. The Farmer, oblivious to all this going on around him, decides to exploit the UFO hysterics, cashing in on the townsfolk by building a UFO themed adventure park.
There are plenty of silent comedy tropes used to great effect. Perhaps the best was the alien (bull) in a supermarket (china shop). In an era where Pixar is becoming more focused on the bottom line, and original Disney films are reverse engineered around toys, Aardman stands out as one of the few charming production companies who seem to churn out content genuinely for the love of it. It really shows in the finished product. It's hard to imagine any reason beyond the passion for their craftsmanship why these animators would spend hours meticulously arranging the clay characters.
Expect to feel a warm glow walking out of this. The comedy isn't uproarious but more chuckle worthy. There's nothing pretentious here. Just clean cut wholesome family fun mixed with charming British eccentricities and puns.
A Shaun the Sheep Movie: Farmageddon is in cinemas from 9th January through Studiocanal.