Following his 2018 hit Shoplifters – darling of the film festival circuit which won the Palme d'Or at Cannes – Japanese director Hirokazu Kore-eda returns to screens with this decidedly different offering. The Truth is a fascinating film of layers; meta in intent and execution, and buoyed by fabulous performances by two of France's finest actresses.
Much like the actress playing her, Fabienne (Catherine Deneuve) is one of the greats of French cinema. A long and successful career hasn't slowed the progress of time; she's coming into her twilight years and her fractious relationship with her daughter Lumir (Juliette Binoche) doesn't seem to heal with age. With the publication of her memoir – nostalgic and leaving out key details – Lumir and her husband (Ethan Hawke) travel to France. As Fabienne begins filming a new role, secrets are dug up and the long percolating confrontation between mother and daughter finally arrives.
Kore-eda wrote, directed, and edited this quietly powerful film. It's quite an accomplishment considering that he has also directed, written, edited, and in one case produced one film a year since 2015. His incredible work ethic hasn't dulled the experience. Not only has he brought out amazing performances from his leading ladies and Hawke, the various pieces of subtext will leave people critiquing this experience and its many layers for years.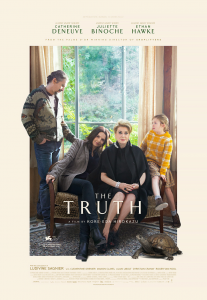 It's been an excellent year for telling women's stories. This is even the second time we've seen Catherine Deneuve dealing with her seldom seen daughter after Claire Darling, though thankfully this isn't ruined by the ending. For a film written and directed by a Japanese man in his fifties this feels like a deeply personal reflection about French women, added extra weight by the inspired choice of putting Deneuve as an ageing actress taking on popular special effect films rather than the humanistic cinema she got famous with. 
Chain smoking and with a tongue as sharp as her eye-shadow, Fabienne embarks on a new film playing the grown-up version of an astronaut's daughter, like a French version Interstellar. Three actresses play the daughter at different stages of her life. We're already several layers of meta deep before we consider that three generations of Fabienne's family are gathered for this performance, and it gets even better when we consider that the actress playing her mother looks quite a lot like a young Juliette Binoche. This is the kind of emotional and artistic complexity that great filmmakers can bring. Kore-eda is adept at telling the story of families and with this it's clear he's one of the finest craftsmen on the international circuit.
Each person's truth is different. It changes with who is telling the story and what mood they're in while telling it. It might take a second watch to really dive into the many things that Kore-eda is getting at, but as a perfectly crafted piece of family drama this is everything film buffs hope for. Great to watch, even better to ponder.
The Truth is in cinemas from 26th December through Palace Films.