Highest paid actor in the world, Dwayne Johnson, continues to cash in with Jumanji: The Next Level. With the world-building already done, director/writer Jake Kasdan tries to keep the franchise fresh by switching things up, all the while keeping everything that made Jumanji: Welcome to the Jungle such a hit.
Having won the game as Dr Smolder Bravestone (Dwayne Johnson) last time around, Spencer (Alex Wolff) has come crashing back down to earth i.e. the real world. He's struggling at college, has broken up with his girlfriend Martha (Morgan Turner), and once back at home for the holidays has to share his bedroom with his ill grandfather, Eddie (Danny DeVito). Craving the rush of the game, and the impressive body and strength of The Rock that go with it, Spencer sends himself back into the world of Jumanji. When his friends and game-mates, Martha, Bethany (Madison Iseman), and Fridge (Ser'Darius Blain) discover what he's done, they follow him in. Things don't go quite to plan, however, when Eddie and his ex-business partner, Milo (Danny Glover) end up sucked in too, while Bethany remains in the real world.
Back in Jumanji, Martha is the only one of the bunch to wind up with the same alter, Ruby Roundhouse (Karen Gillan), while Fridge is aggravated to find he's now been demoted to Shelly (Jack Black). Martha is stunned to find that Dr Bravestone is now inhabited by Spencer's grandfather, Eddie, and Mouse (Kevin Hart) by Milo. Spencer's alter-ego, whoever he or she may be, is nowhere to be found.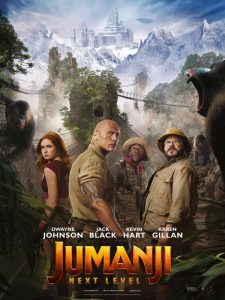 Johnson, Hart, Gillan and Black continue to constitute the core cast, and get to have some fun with new roles. Kevin Hart, channelling Danny Glover, is the strongest of the bunch, clearly enjoying playing an older gentleman who takes forever to get to the point. Black pretending to be black (no pun intended), however, is a little questionable, until he is re-inhabited by Bethany. While it's hilarious to see him get back in touch with his feminine side, he seems to have forgotten that Bethany had stopped being a ditz by the end of the first film. Johnson is likeable as always, even if you can see him trying hard to pull off Devito. Most disappointing is that the only female of the bunch (Gillan) gets little more to do than recycle the same straight schtick as last time. The slow pan up her thighs and midriff when she first appears is also gross. In supporting roles, Awkwafina is killer as always, Rhys Darby only has to show off his accent to be a riot, and Nick Jonas is presumably there to keep the tweens satisfied.
Like Welcome to the Jungle, The Next Level is most enjoyable in its action scenes, with the backdrop shifting to the desert and the mountains. An ostrich stampede and a bridge run away from baboons are the highlights, particularly when, with three lives each, the characters could all die at any moment. Once again it's good fun to keep track of who has lives to spare, but the question must be asked, do they feel pain when they die? Because some of the deaths are gruesome. And to the people who brought toddlers in, what the hell were you thinking? An explosion of blood and guts is not for littlies. They will be terrified of ostriches for years to come.
Kasdan, along with fellow screenwriters, Jeff Pinkner and Scott Rosenberg, makes sure to include a few feels in the script, with messages about appreciating each other, yada yada, whatever, just get on with it. There's nothing revolutionary about the latest addition to the Jumanji family, but it probably succeeds as a solid family action film more than most due to the strength of the cast, action scenes, and a hefty dose of comedy. With a third (or fourth, depending on how you number them) hinted at during the credits, one can only see this franchise continuing to rake it in and, honestly, I'm not against it.
Jumanji: The Next Level is in cinemas from 26th December through Sony Pictures.