As this decade comes to a close, Timothy Spall meets its end having proven himself as one of Britain's finest actors. One excellent performance has followed another, a dream run of memorable roles in good films that all actors hope for. His latest, which he shares with Vanessa Redgrave – another blue blood of British acting royalty – brings the life of English painter L. S. Lowry to the screen.
In the austere beauty of early-century England, rent collector Lowry (Spall) spends his days traversing Pendlebury's mossy streets. He lives with his mother (Redgrave), who has reached the age where getting out of bed is more trouble than it's worth. She has nothing to do but sit and wait for the end. Her frustration is poured on her only point of contact; when she's not raging against his father's memory she belittles him for his art. As she admits in one of her lighter moments; "You find things beautiful no one else does."
Adrian Noble, whose career to this point has been spent with the the West End's Royal Shakespeare Company, strips back all but the most important parts of Lowry's story. It's intimate to a fault, we explore Lowry's complicated relationship with his mother but there's scarce else to grab on to.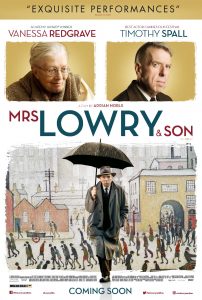 Performances are the only thing worth getting excited for. Having won Best Actor at the 2014 Cannes film festival playing J. M. W. Turner, Spall is no stranger to bringing great British artists to the screen. He and a wonderfully acidic Redgrave bring a level of performance that towers over the rest of the film, which is fortunate because there's not much more to it. Scene after scene has them sitting solitary in Redgrave's bedroom. Sometimes they eat, sometimes they fight, sometimes they discuss art. In one scene they manage to wrap it all together by fighting about art while eating.
They have fun with these roles, but the occasional beautiful, tender moments can't save this crushingly dull film. Patience is thoroughly tested, which is a big problem with a running time of 90 minutes. There's almost no insight into Lowry besides his maternal relationship. We hardly even see him painting.
As a nostalgic look at inter-war Britain it succeeds. The moss covered streets of Lancashire look almost Dickensian through the eye of cinematographer Joseph Civit. As Lowry looks over this dirty old town with its massive chimneys pushing out smoke plumes it has its own kind of British beauty, the kind that Lowry was able to express through his paintings. It's a shame the film hardly touches on this aspect of his life.
Mrs Lowry & Son boasts excellent performances from two of Britain's great actors and almost nothing else. Whoever thought it was a good idea to make a film about one of Britain's most unique artists and not explore his art needs to sit and have a big thing about what they've done. Repetitive, cold and rather dull, few people will have any reason to track this down and see it.
Mrs Lowry & Son is in cinemas from 28th November through Rialto Distribution.