After their involvement in the original and hilarious Sausage Party, directing pair Greg Tiernan and Conrad Vernon go the safe route with The Addams Family. Alas, this is not another live action but the latest animated feature from Illumination Entertainment.
On the old, dark house on the hill, Gomez (voiced by Oscar Isaac) and Morticia Addams (Charlize Theron) are enjoying their miserable lives in New Jersey while their son, Pugsley (Finn Wolfhard) prepares for his 'Mazurka', a rite of passage celebration, and their daughter, Wednesday (Chloë Grace Moretz) laments her general existence. Also living at the Addams residence is Uncle Fester (Nick Kroll), Lurch, and the single hand, Thing. Their property is an eyesore for reality TV host, Margaux Needler (Allison Janney) who is desperate to give their home a makeover so that she can cash in on several properties being sold in the neighbourhood. When Wednesday meets Margaux's daughter, Parker (Elsie Fisher), they strike up a friendship and Wednesday enrols in school to her understated delight.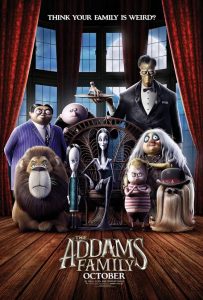 The world building in the Addams Family as a general franchise is entertaining, and animation allows the boundaries to be stretched. But watching this version, which is stylistically loyal to the original comic, had this reviewer longing for another live action version in the vein of the 90s iterations. CGI has come far enough that an updated live action would have offered something new. Instead nothing is all that exciting in this venture. Reportedly the film was initially set to be a stop-motion feature but never came to fruition. Instead we have some standard animation (enough with the skinny noses and legs!) that does not excite at all.
The voice cast are completely wasted here which is a shame because the talent assembled is undoubtedly strong. Oscar Isaac's fans supposedly lobbied for his involvement but ultimately his voice is barely noticeable. Snoop Dogg is credited as Cousin It, but considering that he doesn't say a single audible word (rather, his voicework is sped up to meaningless squeals) it's unclear exactly what the point of his involvement was.
There are a few positives. The screenplay (by Matt Lieberman and Pamela Pettler) and animation do offer some laughs, although they're more like titters than belly laughs and they can be counted on one hand. Chloë Grace Moretz's Wednesday provides the most entertainment, unsurprisingly given she's usually the best character. There's a reference to It (the Stephen King film, not the cousin), there's a bit of singing, and Allison Janney is always a pleasure. But these factors don't justify wasting 86 minutes of your life on a lacklustre film that didn't need to be made. Why The Addams Family 2 is already slated for release in 2021 is incomprehensible. If you're after an animated film this month, Frozen 2 is the obvious choice.
The Addams Family is in cinemas from 5th December through Univeral Pictures.