Many of us might use the holidays to hide away in the embrace of a decent murder. It seems Rian Johnson, escaping from Star Wars for a while, and his friends, do too. The difference for Johnson is that instead of settling for solitude and a dog-eared paperback to pass the time between projects, he writes a screenplay, assembles an all-star cast, and weaves them into a film that is likely to be the most entertaining release of this season.
Knives Out owes a lot to Agatha Christie and Cluedo, and Johnson has evidently read enough whodunits to know his way around the traps. Big house, old money, an extended family gathering of squabbling siblings, a lot of knives and secret passage ways, and an aging patriarch at the head of it all. That man is Harlan Thrombey (Christopher Plummer), who incidentally made his name writing murder mysteries, whose publishing empire has made him and his family very rich and whose throat will be slit on the night of his 83rd birthday in his attic bedroom. It's a cosy, familiar set-up.
Needless to say, everyone is a suspect. Especially with the egos running around this house, and the turbulent night of revelations that Harlan had in store for his relatives. They include his daughter, 'self-made' woman and de facto leader of the rest of the family, Linda (Jamie Lee Curtis), her husband Richard (Don Johnson), their spoilt son Ransom (Chris Evans), the nervy Walt (Michael Shannon) who inherited the book publishing side of things, his wife Donna (Riki Lindhome) and their sickly son whom people just refer to perhaps unfairly as the 'Nazi masturbator', Joni (Toni Collette) who married into the family and has clung on beyond her husband's death, and her disillusioned daughter Meg (Katherine Langford).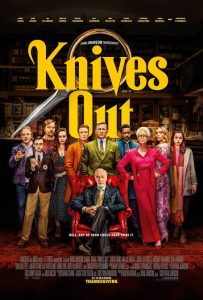 One thing they all have in common as they wake up to find Harlan dead and the police (LaKeith Stanfield and Noah Segan) in their house is the question: why the hell is Benoit Blanc here? Here, Daniel Craig as a famed private detective has quite a bit of fun playing 'CSI KFC', as Ransom describes it, with his Kentucky drawl to root out the truth. He doesn't even know who hired him. Money talks though, even if it's delivered in an anonymous paper bag. And he has the perfect aid for his venture: Harlan's Ecuadorian nurse and confidant Marta Cabrera (Ana de Armas), who literally cannot tell a lie.
It might seem odd that a film about murder screams relaxation, but this Gothic setting may as well be a haven for talent escaping franchises of all shapes, sizes and galaxies: Star Wars, Avengers, Bond, Halloween, you name it. There is no weight of expectation here, and the atmosphere is as fun as it is sly, as Johnson revels in calling the shots rather having to answer to a rancorous decades-old fan base.
Evans and Craig seem especially carefree in playing against type, but it is de Armas who is the surprise package of this film, not relegated to the role of Bond girl or scream queen but rather seizing the heart of a film that might seem breezy by nature but is subversive enough to make you think twice – or indeed many times over – about the themes it raises. Johnson has written a capably tangled murder mystery, yes, but it is not without some scathing remarks on a broader sense of American entitlement and paranoia: just how far might one be willing to extend the moniker of 'family'?
Knives Out is in cinemas from 28th November through Studiocanal.