One of the 'bad boys' of French cinema seems to have had a change of heart. By the Grace of God is a stunning surprise from the usually provocative François Ozon. In a filmography packed with free spirited, sexually liberated romps imbibing the spirit of the French New Wave, Ozon instead delivers this deeply concerned and refined exposé of the French Church.
A topic that will be painfully relevant to any Australian, the church's cover-up of paedophile priests is explored in crushing detail, with extra weight as the priest the film covers tried to block the film's release after its debut at the Berlin Film Festival where it won the Silver Bear. The case orbits around three men: Alexandre (Melvil Poupaud), a father of five who is still a devoted church goer, François (Denis Ménochet) who has completely thrown off his faith and despite his occasional temper is still a loving father, and Emmanuel (Swann Arlaud) a gifted child that now suffers seizures as he tries to navigate his abusive girlfriend. All three were abused at the hand of Father Bernard Preynat (Bernard Verley), who they are all shocked to discover is still an ordained priest working with children.
Buoyed by immaculate photography by Manuel Dacosse – who also photographed the astonishing Evolution in 2015 – and some exceptional performances, By the Grace of God is Ozon at his sharpest and most sincere. The three men at the centre are excellent, especially Ménochet who after his unforgettable turn in last year's Custody is showing himself to be one of France's finest actors.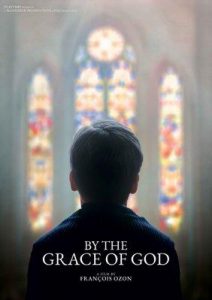 Cinema seems to have been exploring this sordid topic a lot in the last few years, first in documentaries and notably with Best Picture winner Spotlight. Ozon brings a deliberately French gaze, showing the Church's still strong influence on French culture alongside its long and incredible history. Much like the church itself it's a film of horror and beauty: the glory of religious architecture alongside the abominable cover-up.
There's no sensationalism here. Ozon's fury doesn't cloud the film's judgement. The facts and more importantly the victims speak for themselves, not out of revenge – as Alexandre brings up multiple times he decides to speak out for the church rather than against it – but a sense of duty. Time and time again people admit that they knew what was happening but didn't intervene, not wanting to complicate their lives and destroy reputations. It's a steady stream of silence by omission rather than guilt.
By the Grace of God might be Ozon's finest film. For a topic that brings out so much anger and passion the restraint he brings is not only admirable, it's the key to the film working as well as it does. It will most likely leave you angry, but for a topic like this it's worth it. The institution that claims moral authority over us all was complicit in the filthiest crime imaginable, soiling children in their own flesh. The French are a passionate people, and when it comes to this topic passionate anger is necessary.
By the Grace of God is in cinemas from 28th November through Sharmill Films.