Six years after Frozen took the world by storm and infiltrated its way into every little girl's heart, Frozen II is the first sequel to a Disney princess film to get a cinematic release. Not content with a box office of over one billion dollars, making it the highest grossing animated and musical film of all time and the ninth highest grossing film of all time, two Oscars, and a Broadway adaptation, Disney are raking it in while parents everywhere brace themselves for a new horde of songs they'll be hearing again and again. And again. Until the inevitable Frozen III.
Life's been pretty sweet in Arendelle, until Elsa (voiced by Idina Menzel) hears a siren song and follows it 'Into the Unknown' (yes that's the latest song you will hear from now until eternity). Accompanied by her sister, Anna (Kristen Bell), Anna's boyfriend, Kristoff (Jonathan Groff), his reindeer, Sven, and adorable snowman, Olaf (Josh Gad), they travel to an enchanted forest and endeavour to save the kingdom once again.
For all the complaining about hearing Frozen's songs over and over, you have to admit. You've got it pretty good. Robert Lopez and Kristin Anderson-Lopez's Oscar winning songs (in fact, Bobby has a freakin' EGOT – Emmy, Grammy, Oscar, Tony) are no Baby Shark. While their efforts at expanding the first film's songs for the stage were somewhat underwhelming (based on a listen to the cast recording) they're back in form with the sequel. Along with the major pull, 'Into the Unknown' (of which there's also a Panic at the Disco version which I can't decide whether I love or hate), Elsa gets another big and fabulous number with 'Show Yourself' and Anna has perhaps the sweetest song, message-wise, with 'The Next Right Thing'. There's also two hilarious numbers by Olaf ('When I Am Older') and Kristoff ('Lost in the Woods') because by god, if there's one thing this sequel needed to improve on it was the lack of Jonathan Groff's beautiful voice. Here he sends up the 80s power ballad and it is glorious. Add to the Lopez's songs a sumptuous score by Christophe Beck and the sequel definitely nails it on the music front.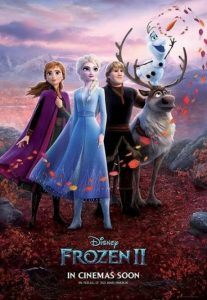 Long gone are the days of no-name singers in Disney animated features, and Frozen has perhaps one of the best singing voice casts ever assembled, with a treasure trove of Broadway alumni. I have to admit I don't quite think Idina Menzel deserved a star on the Hollywood Walk of Fame for being in one successful film where she voice acts only, but singing wise there's no denying she's a powerhouse. Acting wise, the best of the bunch are Kristen Bell and Josh Gad who are absolute masters of comic timing. Without a doubt the best part of the film is Olaf's refresher on the events of the last film, which had me and the rest of the audience laughing so hard that I missed half of it. Props to Jennifer Lee's screenplay which is consistently entertaining and not afraid to make a few light digs at itself.
Without a doubt Frozen II both looks and sounds great. The animation is once again stunning, with Elsa's magic producing a dazzling display of ice in key moments of the film. For a film with several major scenes taking place at night, Frozen II manages to pop with colour and is never dull viewing.
With the original based on a Hans Christian Andersen classic, The Snow Queen, it'd be fair to fear a disappointment with the sequel's narrative. But this is Disney and if there's one thing they know how to do it's write a good story. Following on from the feminist slant of the first film, Frozen II continues to dial up the girl power. Elsa and Anna's sisterhood is celebrated and they both succeed in equal measure. Their deceased mother (Evan Rachel Wood) plays a bigger role and they receive help from other empowered females on their quest. It is glorious to see this after so many earlier Disney films – or in fact, maybe just films? – that consistently featured a woman who needed saving by a man. The end of the decade signals significant change and Disney is showing progress.
So is Frozen II as good as the first one? Well, very possibly. In fact, the only thing stopping me from declaring it superior is the simple fact that it didn't come first (and that it didn't make me cry). Directors Chris Buck and Jennifer Lee have served up another Disney triumph that deserves every accolade it gets. It's not only excellent viewing for children and their parents, but anyone who appreciates a solid animated musical. My one tip for parents (because as someone without kids I'm clearly the one to give advice) is this: when you start to complain about hearing this soundtrack for the forty millionth time, be thankful that your children have good taste and that your daughters finally have Disney role models worth aspiring to.
Frozen II is in cinemas from 28th November through Disney.