For younger audiences who may only have a passing association with the legend that is Suzi Quatro, perhaps only recognising her name from conversations with their parents, thrilled to have tickets to her Red Hot Summer Tour, she seems an odd choice of subject for a Film Victoria and Screen Australia funded documentary. She is after all a Detroit native who found success after moving to the UK in the 70s to record music. But given her astronomical success down under and her influence on our own rock legends, it seems a natural fit that an Aussie filmmaker should tell her story.
Suzi Q charts the rise and rise of the first lady of rock 'n' roll, from her humble days in an all girl rock group playing the bass to her world conquering days fronting a band, touring the world and living on top of the charts. An iconic female rock story embodying a real punk attitude, her story is one of persistence, reinvention, stopping at nothing to realise her dreams, and inspiring countless women the world over to pick up instruments because it wasn't just for the boys anymore.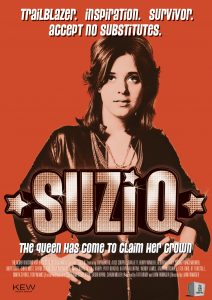 The film is a cornucopia of archival footage interspersed with interviews with legends of rock including Alice Cooper, Debbie Harry of Blondie, Joan Jett and more, and recitations of her poetry. Liam Firmager paints a portrait of a rebel, a young woman who weighed less than her bass, who left her family to pursue her destiny, and forged a path for countless others who came after her. The film could have easily been bogged down in the triteness of showing her influence on rock, and does touch briefly on Joan Jett's own obsession with the tiny rocker. However, it never loses focus on the woman herself, exploring her struggles to crack America, her time as Leather Tuscadero on Happy Days, her later careers performing on stage in London, writing novels and books of poetry. Firmager doesn't get bogged down in the tabloid fodder, portraying her family life less as the novelty it was to the press at the time, but as a desire she'd always had to raise children and have a normal family life, just like her childhood.
In her more reflective moments there is a sense of regret for having gone on the road with her band from the tender age of fourteen, and missing out on some of the family bonding for which she now yearns. But throughout it all, Suzi gave the world Suzi, bringing that strong sense of self to everything that she did. Whether it was donning that famous leather jumpsuit and performing to a deafening crowd at Festival Hall, or strapping on the cowboy boots to perform in Annie Get Your Gun on London's West End. To this day Suzi is Suzi and doesn't do anything she doesn't want to do.
There is a lot to cover in Suzi's astonishing career, and the film does push through several natural end points and continue with a few too many final loose threads. But before the drag this is an impressive artefact of an icon who was more than a pin-up, more than a character, more than a bass-player. This is the story of Suzi Q – the legend.
Suzi Q is in cinemas from 21st November through Label Distribution.