The American President is an idiot. The British Prime Minister is determined to push through an unpopular decision. They're both lying through their teeth, and the media is having a feast.
It sounds so familiar it could be the present day, but the year is 2003. Two years after 9/11, George W Bush and Tony Blair are about to send troops into Iraq to topple Saddam Hussein, who is allegedly harbouring Weapons of Mass Destruction.
We all know the story, and we know the carnage that ensues over the years to come. What is less known is that one woman almost stopped it all from happening.
Gavin Hood's Official Secrets tells the story of Katharine Gun (Keira Knightley), a public servant working for GCHQ, a British intelligence service. A memo from the National Security Agency in the United States arrives in her inbox one day, which reveals that the United States and United Kingdom are pressuring United Nations states into voting in favour of their proposed war with Iraq. The details here are more for the politics nerds than the average viewer; what matter is that Katharine decides the public has the right to know about it.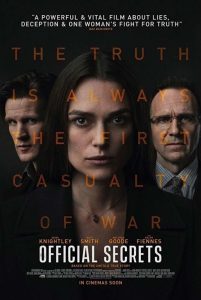 As we know, the war happened anyway, meaning Katharine's story on paper might not sound overly appealing. Indeed, the source text The Spy Who Tried To Stop A War, by Marcia and Thomas Mitchell, might well be the most appropriate medium for this film, which is more courtroom drama than political thriller.
While it's questionable whether Katharine's story ever deserved to be a 112-minute feature film, screenwriters Gregrory Bernstein, Sara Bernstein and Hood nevertheless makes it work. Knightley helps this out; her character's unwavering sense of justice balances against her fear of being imprisoned, culminating in a captivating performance. The other protagonists – Matt Smith as Observer journalist Matt Bright and Ralph Fiennes as human rights lawyer Ben Emmerson – are serviceable, but it is Knightley's scenes that give the film its human edge. Outside of this trio, which the film pivots around, the newspaper staff at The Observer, particularly Conleth Hill as the headline-hungry editor Roger Alton and Rhys Ifans as the left-wing American correspondent Ed Vulliamy, provide amusing caricatures.
What Hood and co. do best, however, is provide a fascinating timeline of political events, allowing audiences – particularly those who didn't agree with the Iraq war – to reflect on its deceptiveness. And while we don't necessarily need modern day reminders that we need to be careful of the lies told by politicians, Official Secrets certainly helps validate those who are already cynical. Meanwhile, for those whose memories of these events aren't as clear, it's a compelling way to learn more about this historical episode.
Official Secrets is in cinemas from 21st November through Universal Pictures.