It's Thursday so it must be time for another reboot. Cue groaning. But there's really no need – for the groaning, that is – because Charlie's Angels is two solid hours of ball-busting fun.
Drew, Cameron and Lucy are swapped out for the slightly younger cohort of Kristen Stewart, Ella Balinska and Naomi Scott. Sabina (Stewart) and Jane (Balinska) are established angels, well-versed in martial arts, weapon use, and the act of manipulation. When Elena (Scott), a young engineer with concerns about the potential weaponisation of her company's technology, contemplates whistleblowing and subsequently finds her life on the line, the angels are called in to assist.
The latest reboot of Charlie's Angels is pure popcorn entertainment. The story – written by Evan Spiliotopoulos and David Auburn – is not particularly surprising; the twists are not hard to see coming, but like the early noughties iterations, it's really just fun seeing a trio of women kick arse and look fantastic while doing it.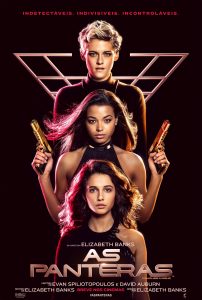 Unsurprisingly this is a film high on female empowerment and there are a few obvious comments on women's treatment in the workplace early on in the film. Unlike the earlier versions (though I can't comment on the TV series having never seen an episode), the current film doesn't waste much time on love interests, though it does make sure to point out that the angels are not all heterosexual. While the angels do use their femininity when it is advantageous to them, the film does not blatantly sexualise its leads for the benefit of the male gaze like the franchise has previously. There is a very good hair flick though.
The current film has enough similarities to the 2000 film and its sequel to be delightfully nostalgic (a choreographed dance routine is always a winner) while still adding something new. There are costume and wig changes aplenty, along with the necessary wardrobe scene and god dammit, I want Kristen Stewart's pink jacket. The film also appears to have learnt a lesson from Jurassic World's mistakes; after posing as a racegoer Elena manages to swap her heels for sneakers somewhere along the way so that she can sprint and then Krav Maga her way out of a sticky situation in comfort.
Possibly the only area where this film doesn't reach the heights of its predecessor is its soundtrack. Ariana Grande heavy, it's actually pretty decent. But it does pale in comparison to a 70s heavy tracklist (duh) and the feature song – by Grande, Miley Cyrus and Lana Del Ray – is no Destiny's Child's Independent Women.
Elizabeth Banks, as well as starring as Bosley, both directs and writes the screenplay, following her efforts on the Pitch Perfect films. She's clearly all about the girl power and she also peppers the script with plenty of one-liners, with my personal favourite taking a stab at Ben Affleck's Batman. Her leading ladies, while not perhaps having quite the star power of angels past (Kristen Stewart the obvious exception) are perfectly cast and together make a formidable team. Bring on the sequels, with more sequins and more of those dance routines.
Charlie's Angels is in cinemas from 14th November through Sony Pictures.