'Based on a true story' is the overused tagline usually reserved for implausible events. Ford v Ferrari, an underdog motor racing tale of 1966, does not merit that tag. The events are certainly not outside the scope of reality. It's lazy marketing for a mediocre film.
If you don't enjoy motor sports or American nationalism this may not be the film for you because it is chock-full of both. The Italian founder of Ferrari, Enzo leverages a takeover offer from the Ford company to obtain more money from Fiat. As he rejects the Ford company's offer he layers it on by also insulting CEO Henry Ford Jr's ego, comparing him in an unflattering way to his late father Henry Ford Snr and also trash talking their mass produced cars. Ford Jnr in an act of supreme pettiness decides the best retribution will be to write a blank check to create a car and team that can win the famous Le Mans, a 24-hour motor race in France that Ferrari was dominating.
So how do Matt Damon and Christian Bale fit into the shenanigans of business owners? Well, Damon is famous driver Carroll Shelby (not the first time he's played a Carol), an American racing hero who has previously won Le Mans but is now unable to race due to a weak heart. He is the recipient of Ford's blank check and spearheads their project to win Le Mans. Bale plays Ken Miles, Shelby's right hand man who will help create and drive the vehicle. Or will he? (There's a pointless subplot revolving around a Ford executive determined to get rid of him.) Sporting an outstanding brummie accent Bale brings a British eccentricity and zest to the role that Damon never matches. The bromance between the two is at the core of the film.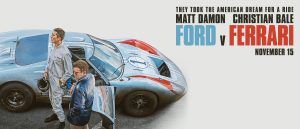 The film is peppered with clichés and hyperbolic dialogue. Expect Liz Lemon levels of eye rolling. The hammed up exchanges stand out painfully, reducing the verisimilitude. Shelby frequently repeats the film's tagline: 'There's a point at 7000 RPMs where everything fades." There's a point where lines like that grow tiresome, and it is very early within the 152-minute production.
This is really a film that would have done much better in the early 00's for a variety of reasons. Firstly, the abysmal Bechdel rating. Second, it would have been pre Senna and Rush (both superior films) and before the deluge of Oscar award tailored biographies. Furthermore, only the American jingoism would be outdated, even for the noughties. There's a moment when Ford Jr looms over the formerly great Michigan. With the camera peering over his shoulder he tells Shelby how the Ford company won WW2 – not LBJ, and they now go to war in Europe once more, to show their superiority.
Director James Mangold can make me care about a superhero with his incredible 2017 film, Logan, but he can't make me care about a car. No amount of admittedly fantastic sound design, well shot racing sequences, or frequent gear shift shots make up for a banal ride.
Ford v Ferrari is in cinemas from 14th November through 20th Century Fox.