Strange But True is a puzzle, but ultimately not in the way that it wants to be. It has you guessing to begin with, trying to figure out the characters and place its genre, but in the end it loses confidence and the clarity of its vision to make some serious missteps to a generic, trite ending. It makes little sense based on what we've learned about the characters in the previous hour, giving answers that are much less interesting than what the audience will have speculated. It morphs into something disappointingly different to what went before. The puzzle is really how a film with this strong a cast, with great little performances and character moments, struggles to make an impression, and can falter so badly at the end.
Movie adaptations of books don't have to stick religiously to the source material – they are different mediums that need different things. Strange But True is definitely a case where director Rowan Athale and writer Eric Garcia (himself an adapted novelist) could have strayed from the ending of John Searles' novel of the same name.
Back home after an accident forced him to leave New York, Phillip Chase (Nick Robinson, Love, Simon) is surprised to answer the door of his family home to a heavily pregnant Melissa (Margaret Qualley). Melissa was the girlfriend of his older brother Ronnie, who died in an accident five years earlier, and she now claims she's carrying Ronnie's baby. The news sends a new wave of disruption through the Chase family – Phillip's mum Charlene (Amy Ryan) is pulled out of her grief stupor, his remarried dad Richard (Greg Kinnear) is forced up from Florida. They start picking apart the mystery and reexamining their paths since the tragedy as things begin to unravel.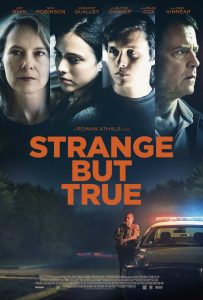 Is this a horror movie, a mystery, a fantasy, a suburban psychological thriller, a twisting family drama about the impact of grief? For the first hour I couldn't tell you, and that's actually in a good way. Each scene has its own nature, its own interplay between the characters, its own narrative propulsion. It's interesting to see scenes that play out as little vignettes and have them slowly fold into each other, but when the time for answers come, this all slips away. Stylistically Athale displays a nice use of natural lighting to hint at the potential darkness lying in the shadows of this tale, while the use of low angles makes the world look a little more unusual, reflecting the character's questioning of what's real and what isn't.
Mainly though, Strange But True is yet another case of how, in her short career so far, Margaret Qualley proves to be a screen-gripping presence. From brief, scene-stealing roles in the likes of The Nice Guys and Once Upon a Time in Hollywood, to deep character work in The Leftovers, Qualley is quickly becoming an actor that makes whatever she's in worth watching. She brings an other-worldliness to her role here, and an ability to convince you that she could be anything from a miracle to totally crazy.
It's not just her performance that's strong though. She's surrounded by good work: a believably self-sabotaging Robinson; Ryan making more of a role than the poor dialogue she's served might otherwise have allowed; Kinnear with his perfectly honed 'good guy but also potential slimeball'; and Brian Cox as a substitute father for Melissa, (albeit with a character disserved by the eventual storytelling). It's these performances that elevate Strange But True from something forgettable to an interesting failure.
Strange But True is in cinemas from 17th October through Icon Film Distribution.