One of Hollywood's most tragic figures, Judy Garland died in 1969 at just 47 years of age. Peter Quilter's play End of the Rainbow focused on Garland in the last months of her life as she performed a series of concerts at London's The Talk of the Town while battling addiction and other health issues. Several years later Tom Edge has adapted the play – which involves some fantasy elements – for the screen under the direction of Rupert Goold, creating early Oscar buzz for its leading lady's performance.
Biopics tend to take one of two paths. They either document the entire life of its subject from childhood to death with all the highs and lows in between, or they zone in on a specific period. Whichever approach, there will undoubtedly be criticism aimed at the artistic choices made. Judy, like the play, takes the latter approach, a breath of fresh air in this reviewer's opinion. The typical trajectory of the whole lifespan approach tends to be very same-same from one biopic to another, with such films always hitting a point where watching them becomes a slog. Judy doesn't suffer from that problem, although hardcore fans of Garland may take umbrage.
While Judy does primarily concern itself with the London concerts, flashback scenes to Garland's teenage years provide context, including the opening scene which sees Judy (Darci Shaw) walk along the yellow brick road at MGM with studio manager, Louis B. Mayer (Richard Cordery). He tells her that while she may not have the looks, she has something the other girls do, that is, a voice. Further flashbacks highlight the toll taken on Judy as an adolescent. Her diet is restricted, she is practically force fed pills, and she barely sleeps a wink – all habits which appear to have continued throughout her life.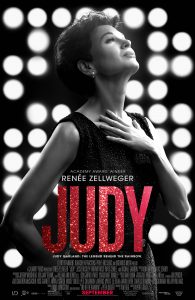 At the London concerts older Judy (Renée Zellweger) oscillates between performances that are either spell binding or complete train wrecks, with the entire residency a last-ditch effort by Garland to make enough money to support her younger children. This is despite doctor's advice to rest her voice. It's a sympathetic portrayal, which makes it all the more bemusing that Garland's eldest daughter, Liza Minelli, has distanced herself from the film and made it clear it did not have her support. Notably, the character of Liza features in one scene only, and is one of the film's weaker casting choices. Darci Shaw as young Judy, however, has the speaking voice down pat.
Of course, the standout of the film is Renée Zellweger in the title role and if she doesn't win an Oscar then I am so done. She nails Garland's mannerisms – the walk, the smile, the voice, and it's hard to imagine anyone else doing this role such justice. While this may be an affront to devout fans, I assumed the singing had been dubbed and was gobsmacked to discover that Renée in fact did her own singing. On second listen it becomes more apparent (and we already knew she could sing from her turns in Chicago and that one song in Down With Love), but she does a phenomenal job regardless. From her first moment on screen to the last she is in complete command of the audience's attention.
The costumes along with the hair and makeup are terrific. At times they appear to unfold before our eyes as Judy is dressed and made up last minute after languishing in the bathroom half out of her mind, before being whisked to the venue to deliver a showstopping performance. Jessie Buckley is in fine form as the assistant tasked with making sure Judy shows up, and puts in an understated performance. Finn Wittrock as Mickey Deans and Rufus Sewell as Sidney Luft are strong, with their roles portraying Judy's relationships with men and her experiences of marriage and divorce. Bella Ramsey as Judy's daughter, Lorna Luft, is sweet but comes off a little younger than intended.
Judy is not a traditional biopic and takes certain liberties. However, that can't be unexpected in a film based on a play that involved fantasy elements. In one particularly touching scene Judy, after having finished a show, goes to the apartment of the two gay fans at stage door. The scene both demonstrates her loneliness and desperate need for company, as well as her role as an icon in the LGBTQI community. The fans return in the final scene, which is really the only one that was difficult to buy into as something that may have actually happened. Interestingly, it mirrors the scene in The Boy From Oz where fans hear news of her death. It's fitting that the film both begins and ends with references to Judy's most famous film, The Wizard of Oz, and its message of hope.
Judy is in cinemas from 17th October through Universal Pictures.