In an industry where so many female characters are written and directed by men, it really is noticeable when the tables are turned. Female trio Michal Aviad, Sharon Azulay Eyal and Michal Vinik make up the writing team for Working Woman, with Aviad doubling up as director of this 93-minute Israeli feature.
It's the subtle features that give it away – the throwaway comments, the manipulative manoeuvres, the implicit powerplays. These are all things that male-written male characters have been getting away with for decades. And it's not as though the male characters don't get away with them in Working Woman; it's just that in this film, the audience is going to notice.
As the title suggests, gender plays a key role in Working Woman, which follows the story of Orna (Liron Ben-Shlush), a talented realty salesperson by day and a cash-strapped mother by night. Orna is new to the male-dominated property industry and reports directly to Menashe Noy's Benny, a man perfectly cast as a #metoo-inspired villain. He is charming at all the right times and menacing at all the wrong times, making him the ultimate two-faced sexual harasser.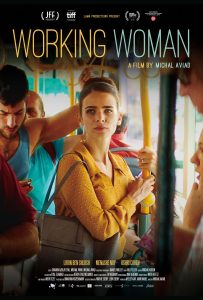 It's Ben-Shlush's performance, however, that truly makes this film captivating. There are no excuses for Benny's behaviour, but the way this makes Orna feel is conflicting and laced with nuance. She is a strong, assertive character but she is always weaker than her male opponent.
At times, we want nothing more than for Orna to punch Benny in the face, but at the same time we can understand her hesitation. The writing team cleverly constrain Orna with a range of factors – an insecure income, a loving but demanding husband (Oshri Cohen), domestic obligations to her trio of selfish children, and the ever-present allure of promotion and bonuses. As such, there are no easy black-and-white decisions for Orna, and struggling with her as she navigates this minefield makes for compelling, if not uncomfortable, cinema.
While thematically dense and richly evocative, Working Woman is told in a simple manner, with the film opening with Orna getting a job and all the subsequent scenes taking place with her in frame. It's an approach that makes the film easy to follow and light on distraction, but also one that keeps the film's focus narrow – which could just as easily be to one's liking as it could be to one's frustration. Aviad's antidote for this is clever temporal shifts, skipping the action forward months at a time in order to jump from one dramatic episode to the next.
It's impossible to say whether a man could have written or directed Working Woman in a way that evoked the same tension, but what Aviad and co. have produced is a fair companion piece to the increasing global awareness of workplace sexual harassment. It is a tightly focused film with strict parameters in its scope, however that only increases the likelihood of it hitting you right where it's aiming.
Working Woman is in cinemas from 10 October through Potential Films.