"I question the wisdom of this film" says the lead of Ned Donohoe's important new documentary. Medical cannabis becoming legal is only a matter of time, so getting busted for supplying it to the sick and dying is like being arrested by the Stasi a week before the Berlin Wall fell. What the two men here are doing is illegal: showing their faces and operation in a nationally circulated documentary is one of the risker decisions in their already precarious line of work.
Green Light is the study of two maverick suppliers of medical cannabis – similar to Breaking Habits from earlier in the year, albeit with fewer assault rifles. Real life superheroes who are risking their freedom to give sick people desperately needed medicine.
It's a scary line of work. The paranoia of not knowing if a police raid is coming next morning is like a Sword of Damocles and the people they supply to have often turned to them out of sheer desperation. With no one else to pick up the slack the emotional toll of doing this job casts a long shadow.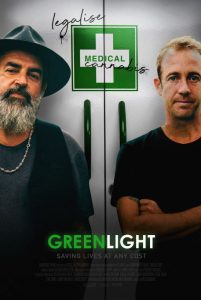 We spend a lot of time with these two in their cars. Travelling up and down highways to deliver to various patients, some of them are willing to share their stories. Many are cancer patients or chronically ill who turned to anything that could help. To Donohoe's credit he hasn't averted his gaze to any of the darker aspects of this topic. Some of the side effects, like one patient who has half his face distorted by an aggressive tumour, are horrific.

As Australia comes to terms with its chronically failing war on drugs the opportunities being wasted with medicinal cannabis are heartbreaking. Getting access to it legally is a Byzantine game of middle men and bureaucracy, and we expect the sickest people in our society to try and navigate it while undergoing the worst moments of their lives. There's also rather odd inconsistencies in the law. In some states medical cannabis is is legal for treating the side effects of chemotherapy but not for the undergoing treatment itself.
A compassionate look at two men who are objectively helping sick people through their darkest days and being condemned for it in the process, Green Light should be a rallying call for anyone passionate about changing Australian society for the better. As the political and medical establishments drag their feet, this is the kind of content that could actually lead to societal change. When asked if he feels like he's breaking the law, one of our leads replies "No. I'd feel like a criminal if I stopped". We concur.
Green Light is in cinemas from 10th October through Exile Entertainment.