In the current climate there's no shortage of crime epics or drug dramas. Narcotrafficking is the storytelling flavour of the month – Netflix seems to have a new series about it each week. But Birds of Passage is the Latin American drug clashes told like never before. It's the latest film from Ciro Guerra and Cristina Gallego, whose previous film Embrace of the Serpent did exceptionally well on the festival circuit and was the first Columbian film to be nominated for an Oscar.
Divided into five chapters, or 'cantos', this is the origin of Columbia's drug wars told through the Wayuu family, one of the indigenous tribes that still live on the arid Columbian desert, "This place where family means everything". It's where sand, memory and traditions are the few things in abundance. In 1968 they live as their ancestors have done for thousands of years – in wooden huts heading goats. Marriage still requires a dowry of livestock and necklaces.
As one of the villagers (José Acosta) ventures into a local town he notices a locust sitting on his bag. A plague is coming. Members of the Peace Corps – young Americans spreading the word of 'Say No to Communism!' – enquire about a local crop of marijuana. Selling narcotics to the Americans soon lifts this family to wealth like they have never seen, yet as wealth grows so do the shipment size and guns. Family tragedy turns into a national tragedy, one that will eventually rip apart the fabric of Latin America.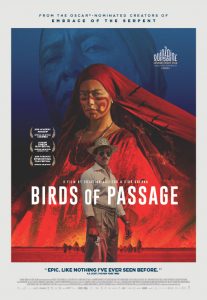 The past is prologue. To understand the ravages of today's Latin America we must go back to where these problems began, and Birds of Passage does it a particularly gripping and unique way. Guerra and Gallego bring this story to the screen in a heady mix of crime drama tropes and arthouse flourishes; think early career Terrence Malick having a crack at The Godfather or Scarface. Making this back to back with Embrace of the Serpent shows a clear interest from this filmmaking duo in the stories of Latin America's native populations – one of the tragically overlooked parts of South America's drug wars.
Many people of Wayuu origin took part in filming, blending perfectly with some of South America's big name actors. Carmiña Martínez, a Columbian playwright with over 30 years experience, plays the family matriarch with a sense of pride and control that would make Don Corleone proud. Rising star Natalia Reyes, who has recently made her way to Hollywood, is particularly good. In preparing for the role she spent four months in the Columbian desert and even learned the local dialect.
Through glorious widescreen photography from David Gallego that shows off the diverse Columbian landscape, and some incredibly detailed sound design, the power of this story leaps off the screen. Birds of Passage is one of the year's most unique and powerful films. It's an epic powerhouse of filmmaking that members of the arthouse community should seek out immediately.

Birds of Passage is in cinemas from 3rd October through Palace Films.