Documentary filmmaker Alison Klayman burst onto the scene with her successful 2012 documentary debut Ai Weiwei: Never Sorry. A few films later and Alison has continued with political docos, but her newest subject is one that couldn't be more different to Ai Weiwei – Steve Bannon, founder of the alt right movement. It's a fly on the wall style documentary following Bannon after his white house fall out.
It's a fairly vanilla affair that doesn't pull punches. The film follows Bannon as he organises a unified right wing movement within the European landscape. It's arguably not the most interesting moment of the life of the man behind Trump's presidential campaign. Steve Bannon of working class roots, naval officer, Harvard Business School Alumni, Goldman Sach's Vice President, movie producer and executive of Breitbart. He's an indelible and interesting man. He's a man who has lived many lives and this particular period within the twilight of his career is perhaps not the most interesting era of the man.
The documentary is a no frills affair with just Alison and her handheld camera following Bannon around in meetings and through his day to day life. Rarely is the camera or Alison's presence acknowledged. When she does interject it's usually with a question or clarification for Bannon. At one point she corrects him on the pronunciation of a Chinese name. Perhaps for her own esteem, perhaps to portray Bannon as wilfully ignorant (his retort – no one pronounces it that way besides a billion Chinese people).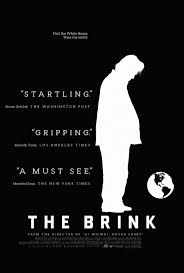 Accompanying the minimalist style of filmmaking is minimalist editing and little commentary or context provided for the events of the film. The film is a series of snippets strung together with no order or seeming chronology. The theme tying it all together is a strong subtext painting Bannon in a negative light without overtly pointing fingers. This is perfectly displayed when Bannon is going through old photos on a laptop and talks about winning his class president race only to be disqualified by the system for knocking out a RA. Likewise, in the opening of the film he talks in macabre tones about not being blown away by the horror of Auschwitz. Instead he speaks in dark awestruck admiration of the Birkenau death camp.
These are poignant moments that the film uses to symbolise the man behind some of the most controversial and divisive speech of the 21st century. Scenes play out like microcosms of cartoonish nefarious right-wing planning. There's talk of how the left have always failed to capitalise on talkback, bald admiration of Duterte, double speak, Donald Trump-esque tip-toeing around the truth (I'm nearly sure I never said that), talk of potential global wars, how globalism is failing. Everything to satisfy a woke conspiracy theorist.
I'm not sure Alison had any goals here beyond hoping for some kind of event or conspiracy to manifest as she followed Bannon around. What we have is a portrait of a ultra-nationalist going around other countries and espousing his beliefs with no hint of irony. It's a very subtle slam but not one that hits cinematically hard. Bannon rarely slips up with the camera on him. For those blissfully ignorant on the man's influence there's nothing informative to be found in the documentary. And I highly doubt this will influence or change the preconceived opinions or beliefs of any audience member. A memoir or even a Michael Moore attack would be a more interesting approach for the subject manner.
The Brink is available on DocPlay from 19th September.