Since the critical success of her debut feature 52 Tuesdays, Adelaide filmmaker Sophie Hyde has had her fingers in many pies, including this SBS success The Hunting just this year. Initially attached simply to direct the big screen adaptation of Emma Jane Unsworth's novel Animals, Hyde took a personal role in encouraging Unsworth to adapt the screenplay herself, and thus a masterpiece of fierce female friendships and unfilled ambition was born.
Holliday Grainger is Laura; an aspiring Irish writer struggling to commit word to page and finish her much lauded first novel. Alia Shawkat is American best friend and live-in muse Tyler. The two party together (hard), wake up hung-over together, and genuinely seem as if they would die without each other. But when adulthood begins to creep between them in the shape of Jim (Fra Fee) an accomplished pianist and prospective husband/security blanket for Laura, the cracks in the friendship begin to grow.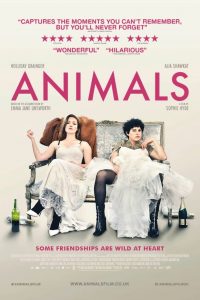 What can at times be an achingly slow break-up story is in fact an intimate portrayal of the fragility of friendship, the dangers of co-dependency and the realities of "living free" (read "living in hedonistic denial well into your 30s"). While it is said many a millennial lives a nihilistic stunted adolescence well into adulthood, it can also be said that the constant societal pressures placed on women, in particular around the notion of having a time limit to achieve motherhood, lead many to cling to what they perceive to be their truth, or conform and suffer the constraints of normality. What Animals does particularly well is present the brutality of growing out of a long-term plutonic relationship, and the heartache that can be suffered at the logical end of a loving, if destructive, female friendship.
Grainger and Shawkat are so spectacular it's hard to believe they haven't known each other for years. Shawkat embodies the true spirit of the wild thing, unrestrained and oblivious to the harshness of the world around her, inhabiting the role of the ingénue as if to become invisible as Shawkat the actress. Grainger is emboldening as the 30-something trying to turn talent into action and stumbling at every turn. Ultimately this is her story, but it is ours as well. I'm sure many female viewers will recognise themselves in her career struggles, in the way she thinks she's disappointing her family, in the trauma of her most cherished relationship and in the desire to be loved and not knowing how to love in return.
There are not too many examples of films that successfully tell the stories of fleshed out women, and this film benefits from a seasoned female cast, a prolific female director, and the screenplay adaptation by the source novel's very own female author. Those starved for original female stories, and not just female reboots of tired male stories, should run out to see Animals.
Animals is in cinemas from 12th September.