Writer-director Ari Aster is already proving himself to be one of the sharpest voices in contemporary horror. After his impressive directorial debut Hereditary last year, Aster has quickly followed it up with Midsommar. And whilst his latest film does not quite reach the stylishly shocking heights of his debut, it does go some way to establishing his particular brand of horror. Like his first film, Midsommar examines psychological grief and destructive relationships through horror tropes, but in ways which feel chillingly, and refreshingly, novel. Aster's horror is almost disturbingly dispassionate – intellectual, clinical and layered, both emotional and symbolic – and in so doing he is pushing the genre in intriguing new directions.
The film begins with college student Dani (Florence Pugh) learning of familial tragedy. Reeling and distraught, she looks to her boyfriend Christian (Jack Reynor), an anthropology graduate student, for comfort and support. However, even before the tragedy he had already been looking for ways to muster the courage – unsuccessfully – to end the relationship. Instead, out of obligation more than commitment, he stays with Dani. And so, when she learns of his plans to visit Sweden with his friends Josh (William Jackson Harper) and Mark (Will Poulter) the following summer at the invitation of their friend Pelle (Vilhelm Blomgren), he reluctantly invites her too. Together, the group visits a generations-old commune for a mid-summer celebration that only happens once every 90 years – and they witness and experience increasingly strange, jarring and violent rituals.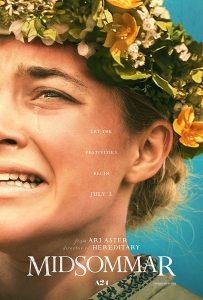 Surrounded by generally unlikable male characters, Pugh's Dani unsurprisingly deserves most of our empathy. She navigates grief with unaffected intensity, but her growing awareness of the depths of Christian's callous indifference is increasingly tinged by agitation, indignation and, eventually, independence. Revelations about the commune's brutal traditions propels the narrative forward, but in many ways this more conventional horror narrative is an unsettling backdrop to examining the dissolution of a toxic relationship.
More broadly, both of Aster's films, despite the contrasting colour palette – with Hereditary's dreary bleakness replaced with Midsommar's foreboding brightness – have similarly distinct visions. Aster continues collaborations from his first film with renewed success. Cinematographer Pawel Pogorzelski and editor Lucian Johnston share the same sensibilities, and so the screenplay and imagery stylishly complement each other. Together, their brand of horror is characterised by an ironclad control over pacing and the disclosure of details. Palpable dread emerges more from pressurised stillness than kinetic editing, and the shocking images and twists are presented with deceptively cerebral apathy. Consequently, viewers will likely be rewarded with a second viewing to appreciate all of its nuances.
Alongside fellow writer-director Robert Eggers (who similarly debuted with an unnerving horror film, The Witch, and has already garnered similarly high praise for his upcoming The Lighthouse), Aster is striving to reinvigorate horror, and his sophomoric effort firmly consolidates his talent.
Midsommar is in cinemas from 8th August through Roadshow Films.