In 2008 Lehman Brothers – the fourth largest investment bank in the USA – collapsed. It was the largest bankruptcy in US history. This was a turning point in both the Global Financial Crisis and economic history, for it's now considered the breaking point when the GFC went from a Wall St emergency to a full-blown global recession. The story of the Lehman brothers is the story of how economics was corrupted. It started as a small town immigrant business and as it collapsed it took down previously held faith in Western economics with it. The past is prologue; history only takes shape when we construct it afterwards, and we're yet to fully understand the repercussions of this incredible story.
Adapted from Stefano Massini's radio play and told over three incredible hours, director Sam Mendes (Skyfall, American Beauty) brings the 163-year long story of this family to the stage in National Theatre's latest excursion to our screens. It took three years to adapt this story to the stage and in its current form The Lehman Trilogy is an incredible experience, one of the finest pieces of theatre or cinema of 2019.
In 1844 Henry Lehman stepped off a boat in New York City. He was from Bavaria, one of the states that would become Germany thirty years later. He was Jewish, ambitious and knew that the promise of America was ripe for the picking. His two brothers arrived soon after and together they ventured south, getting involved in a particularly lucrative trade – cotton, picked by slaves and sold internationally at a massive margin. Over the course of a century this store in a tiny Alabama town grew into a wonder of the corporate world. From cotton to trains to oil to cigarettes and then a quantum leap to controlling the money itself, Lehman Brothers became a legend of the capitalist world.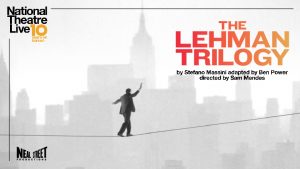 Simon Russell Beale, Adam Godley and Ben Miles are the only actors to appear, between them they play three generations of Lehmans plus more. Mendes has brought out career best performances from all involved. The dialogue is wonderful, flowing like a stream and repeating itself like an epic poem. There's an ebb and flow to this script that has to be seen to appreciate fully. It's amazing not in quality but in quantity as well; the amount of dialogue that all the actors not only remember but act is staggering.
The acting is masterful from all involved. Simon Russell Beale, who has started doing a lot more mainstream projects in the last few years, was declared "the greatest stage actor of his generation" by The Independent in 2008 and he shows no signs of leaving that promise unfulfilled. All three actors are brilliant but Beale is becoming a league of his own. Credit is due to Candida Caldicot too, who plays three hours worth of piano and adds an entirely new dimension.
In terms of range Sam Mendes is one of the most interesting directors currently working. Just like American Beauty, it's interesting that a British man is directing such a uniquely American story. Perhaps an outsider's eye in what's needed in these cases, seeing all the little details that people who live in that world and ideology would overlook.
Above all, the fascinating cycle that we see over the world seems encapsulated in the story of this one family. People make a business, people run the business. Then business makes the people, business runs the people. Co-operations like Lehman brothers are the true masters of our world, and theatre like this – although not the easiest to explain (seriously, who wants to sit for three hours and learn the story of a dead bank?) – is National Theatre at its best.
Educational, engrossing and entertaining: it's a winning trifecta. Anyone interested in the theatrical arts owe it to themselves to track this incredible play down. You'll be thinking about it for weeks afterwards.
National Theatre Live: The Lehman Trilogy is in selected cinemas from 31st August through Sharmill Films.