In 2012 Tame Impala released Lonerism. Within an album full of ambience and reverb the Aussie rockers cemented themselves as the modern day Doors/Pink Floyd torch bearers. One song on that album though, stands out conspicuously. 'Elephant'. While the rest of the album is a masterpiece of psychedelia, 'Elephant' had a bluesy and catchy upbeat vibe contrasting strongly with every other song. It was their 'least Tame Impala song', simultaneously attracting hoards of new fans and polarising those already converted to the band's sound.
This is pretty much the perfect analogy for Quentin Tarantino's newest feature Once Upon a Time… in Hollywood. It stands out amongst the other films Tarantino has output. It's different. For better or worse this feels both extremely Tarantino and conversely also not Tarantino.
There are Tarantino idiosyncrasies everywhere – bare feet, gratuitous violence, homages to spaghetti westerns, and a soundtrack of classic period music. But it's a film that's distinctly different to its predecessors. For one, it's a lot slower. There's a lot of time spent exploring the characters, going nowhere with them.
There's no Machiavellian bad guys, the kinds Christoph Waltz and David Carradine have filled amongst so many other classic ignoble Tarantino roles – the kinds of bad guys who are every bit as engaging as the good guys. This in turn means that this film contains no Sergio Leone penultimate showdown dialogue.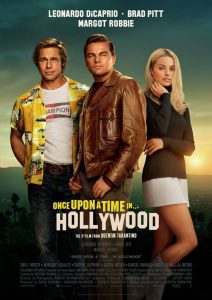 This quasi fairytale follows the motif of threes. We have three characters to explore on three different days in 1969 Hollywood. The first two are Leonardo DiCaprio and Brad Pitt as TV actor Rick Dalton and stunt man Cliff Booth respectively. They aren't quite tragic figures, but there are elements of tragedy. Dalton's career is waning; he's a B-list star staring down the barrel of a C-list future. He could be a George Clooney character plucked from a Coen brothers' pic (particularly Clooney's gullible character in Hail, Caesar!). Incapable of serious introspection he is prone to emotional highs and lows and is frequently and comically weepy. Having built his career as a TV western gunslinger he now struggles not to be typecast as the bad guy in guest slots bouncing between shows.
Brad Pitt's Cliff Booth is likewise on a career wane, much further along than Dalton's. Booth is often forced to comfort and reassure Dalton, sometimes in Dalton's own mansion before he goes home to a tiny trailer for mac and cheese dinners. Booth is a stunt man with a Clint Eastwood swagger, whose inflexible personality hinders his employability. Dalton supplements Booth's wage with chauffeur and general maintenance duties. At its core the film revolves around their buddy relationship. The class difference doesn't cause friction with Brad's cooler than cool personality ironing out any potential indifferences.
Completing the triad is Margot Robbie as Sharon Tate. Dalton's neighbour has little to do with the two friends and Tate's inclusion in the film is most peculiar. I'm not sure anything substantial can be said of her character. While Brad and Leo have characters without character development, Robbie almost doesn't have a character to portray. Half of her screen time is dancing at parties and the other half is as a chirpy, endearing Barbie persona. I'm hesitant to say it but her character does little more than serve as eye candy. The most subtlety Robbie gets to portray is when she enters a cinema to observe the audience's reaction to Tate's acting on screen.
As a meta Hollywood film this has already charmed the Cannes critics where it caused a huge buzz. It's easy to see why perhaps a few critics have turned a blind eye to a few of the faults. This is Tarantino's slowest film. The two main characters have no revelations, no developments, everything about them is static. Undoubtedly Tarantino did this for the 'hang out' rewatchability factor, but running at 2 hours 40 – and their screen time constitutes the bulk of that – it's a long time for not much to happen. If you're in the minority that finds Pitt or DiCaprio overrated it's even less engaging. Tate's inclusion and the way she's used is near baffling. There's almost no substance to her beyond a certain ditzy charm. Faults aside, Tarantino offsets much of this with his expertise in the director's chair and a penchant for entertainment, so that even when dull by his standards it still contains plenty of enthralling moments. The entire film is worth watching, highs and lows, for the last twenty explosive minutes.
Once Upon a Time… in Hollywood is in cinemas from 15th August through Sony Pictures.

Post Script – A healthy education in the Manson family murders is almost a must for this film as it bubbles towards some kind of violent ending – this is a Tarantino film after all. For those who have some time on their hands and want to go beyond a cursory Wikipedia entry on the Manson family I highly recommend The Charles Manson Hollywood series explored on the very excellent cinema history podcast You Must Remember This.