Alice's story is an intriguing anomaly and a testament to the spirit of artistic innovation and originality. Alice was a trailblazing and prolific film maker in a time when most female careers were limited to secretarial work. At the infancy of cinema Alice shot hundreds of important films in her native France before moving to America and founding a film studio. The hook of the film is her slow erasure from cinematic history.
The film begins by asking the obvious question, have you heard of Alice Guy-Blaché? It does so literally, to a series of 40 or so different film industry professionals. They all predictably respond "Who?" It's a cheap way to establish credence. Plenty of the respondents are professionals you very likely have never heard of with the odd recognisable face, such as Evan Rachel Wood's thrown in. These interviews and the 'untold story' part of the film's title are a contradiction as we find out plenty of other subjects are quite knowledgeable on Alice. It's murky story telling that belies a story not told as well as it deserves.
With plenty of quick cuts, tenuous guests, unnecessary tangents and derailments, this is a documentary with ADHD. It's an 100-minute feature book-ended with two great tales. The beginning is Alice's life story and her artistic and business achievements, the second is how her story disappeared (usually authors omitting her or crediting her work to her husband or peers). It's the middle narrative and bulk of the film that taxes the viewer's attention.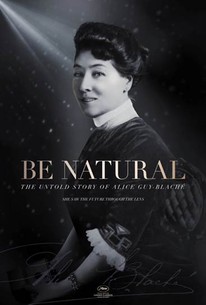 This middle part of the film is told as an investigative tale, documenting the director's efforts to make the film itself. One of these sequences includes hunting down the granddaughters of one of Alice's cameramen. They are excited to uncover their ancestral link but the viewer's excitement is negligible.
Similarly off track is an  attempt to duplicate one of Alice's films with a antique camera from her own period. The film continually revisits the attempt and the result is anticlimactic: a rudimentary duplicate with different actors. The attempt is interesting, showing off the old technology, but has little to do with Alice's story.
Her story and films are indeed interesting. It's a pity so little of them are shown. Instead we spend plenty of time exploring the 'alleged' ignorance of her work. The filmmaker interviews a french film student who has no knowledge of Alice Guy-Blaché besides knowing a room at her film school bears her name. A film student's ignorance isn't great evidence. It's unnecessarily biased film making.
A high point is Jodie Foster's wonderful narration. She tells Alice's story as pictures of Alice and her short films play on screen. She has a rare gift for narration, with perfect inflection and a dulcet tone; it would be wonderful to hear her do voice-over for science or nature documentaries. Her bilingual talents allow her to get around the French nouns effortlessly. It's so good it's almost jarring hearing perfect French pronunciation interjected throughout her American cadence.
First time director and writer Pamela B. Green has unearthed a fascinating cinematic and feminist story. On those merits alone the film is a wonderful testament to Alice, who tragically passed on without being able to have her memoirs published or amend her misplacement in cinematic history. The story is timeless and still relevant today; there are parallels with her fellow patriot of the same period, Marie Curie. Her films were groundbreaking and original pieces of work and this documentary would perhaps have done better to show off those stories.
Be Natural: The Untold Story of Alice Guy-Blaché screens at Cinema Nova from 1st August through Backlot Films.