Asif Kapadia returns for his third biographical documentary after the ground breaking Senna in 2010 and the equally impressive Amy in 2015. This time he has compiled a video portrait of the footballing life and subsequent personal downfall of Diego Maradona, perhaps the greatest player in the history of football.
A common thread has emerged with his subjects: a personality that rivals, perhaps outshines their sporting or artistic prowess. The subjects already have rigid public personas constructed by regurgitated media narratives. Kapadia is an expert at trawling through enormous hours of personal footage to pull back the cult curtains and display the humanity behind the star.
The documentary splits Maradona into two distinct people; Diego – the man, and Maradona – the cult football personality. As a baby of the eighties personally all I knew of Maradona was an over the hill on/off coke addict prone to attention-seeking headline remarks. Plus a few YouTube videos showing an athlete that didn't marry well with the image of the current man. As someone with only a cursory knowledge of him it was hard to have much sympathy for Maradona. The film plunges deep within the depths of the man to show us Diego. And it's more than easy to find empathy for this semi-tragic figure.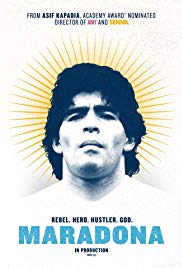 It's a linear story picking up from Diego's early career. Due to the family's extreme poverty there isn't much in the way of video or even pictorial text to construct his early years. It further bestows legitimacy to the rags to riches narrative. At 15 Diego began his professional career and financially supporting his family. The film skips past his Barcelona years and the narrative really begins when he joins Napoli, a team closer to relegation than triumph within the Italian League; the most entertaining and watched league of that era. It is within this struggling small city that he elevates a mediocre team into greatness and in unison builds his own distinct legacy.
It's a mostly linear story that is painted and one which presents a contradictory and polarising figure. Equal parts arrogant and talented the film probes deeply, having obtained obscure and rare footage, sometimes from Diego's personal archive. In between the football highlights is a man too proud or perhaps afraid to share his personal demons.
With the beginning of his well documented cocaine habit we see the tragic downfall or a man who became reviled. His demise truly begins after knocking Italy from the 1990 world cup as captain of his native Argentina. No less than in the city that adopted and loved him – Naples. Coupled with his off field antics, mob relations and a seeping resentment from the more affluent patrons of Italian football it spelled the unofficial end of his successful career.
It could so easily be a Shakespearean tragedy. A hero emerging from poverty, becomes the adopted hero for a struggling city, then a global icon. By both hubris and fate he is undone and becomes the most hated man (according to newspaper and television polls) within his new homeland.
Equal parts worshipped and despised, the fractured public persona of Maradona mirrors the battle within the man himself. It's great drama. Kapadia and his team have found some of the most obscure and illuminating footage to paint the picture of both the hero and the man. This is a fantastic biography in the same league as Senna. Similarly they both have quite moving endings. It's gripping, well told, and a must see for fans, non-fans, and everyone in between.
Diego Maradona is in cinemas from 25th July through Roadshow Films.