The ballet dancer and choreographer Rudolf Nureyev has been described as the greatest dancer of his generation. Born on a Trans-Siberian train in 1938 and growing up poor in Soviet Russia, he entered ballet training from a young age and from then on frequently defied convention to become a beacon of his artform. In a political climate so controlling as Russia's, this was a dangerous prospect. Ballet, as much as it was a type of cultural expression, was a tool to demonstrate Russia's cultural supremacy, and Nureyev was a shining light. However, the breadth of his talent was matched only by his rebellious streak. The tag 'White Crow' cut both ways then. His talent was mercurial, but his willingness to defy tradition also risked him becoming a traitor to Soviet ideology.
Ralph Fiennes's The White Crow, a biopic documenting Nureyev's formative years up until his dramatic defection to the West in 1961, seeks to find the inspiration behind Nureyev's journey from peasant to prodigy. It's a handsomely shot piece that reflects both the harsh strictures around the life of a ballet dancer and the free-wheeling ambition of a man just discovering life beyond the Iron Curtain. As such, the tightly controlled life of a ballet dancer comes across as an emblem of communist suppression, and Fiennes and screenwriter David Hare dissect this struggle to look for what made Nureyev so unique. The results are well-produced, though at times they seem like researchers with not a lot of time on their hands. Diving in and out of timelines, they pick and mix memories from Nureyev's birth, his 1961 journey to Paris, then back to the start of his tutelage; back and forward we go as if flicking through the footnotes of history looking for something categorical but never quite finding it.
We see 'Rudi' as a quiet and observant young boy and then as a young man defying the rules of his profession to become an ill-tempered but inspired egotist. Clearly Nureyev was a hard man to work with, and while we must applaud Fiennes and Hare for not ironing out the deficiencies in Nureyev's character—his stubbornness, his narcissism, his tantrums—what we should glean from this biopic of a man so hard to like is questionable. It doesn't help that films about artists rarely, if ever, can demonstrate what truly made the artist great; they can only explain that they were great.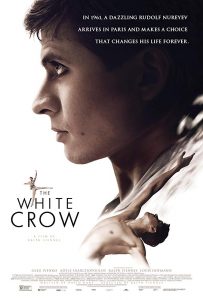 Performances are roundly very impressive, with rookie dancer-turned-actor Oleg Ivenko tackling Nureyev's physicality and brash personality particularly well despite his inexperience. Fiennes took a risk on Ivenko, just as ballet master Alexander Pushkin (Fiennes, on top of directing) did in inviting Nureyev to live with him and his wife; the results are mixed but roundly positive in both cases. As Pushkin imparts lessons of what Nureyev should aim to achieve through dancing, Fiennes plays him as a calming influence with a quiet but sure demeanour. From Pushkin we begin to gain valuable insights into the place and appeal of ballet in Soviet culture, such as its reciprocal relationship with storytelling—how it informs the Russian narrative, but also how storytelling informs a dancer's application of technique.
Pushkin is one of a few valuable counterpoints to Nureyev's hurricane of a personality in this telling, willing him to grow out of his childish tantrums. Another is Parisian socialite Clara Saint (Adèle Exarchopoulos). Though her character is subdued by virtue of Nureyev's personality being so strong and is symbolic of a slight problem with White Crow in that much of the supporting cast seem only to be there to witness or facilitate Nureyev's rise. No man is an island, but just as Nureyev may have been the centre of his own universe, so must he be in his biopic, even at the expense of our understanding why he must be so rude to everyone.
Fiennes does manage to build a solid portrait of ballet's social and political significance and Nureyev's place in that story, and tops it off with an exciting conclusion. But in its hoovering of scattered memories, The White Crow can be confusing its narrative ambitions, which may be lost on people without a strong appreciation of ballet to begin with.
The White Crow is in Australian cinemas from Thursday 18 July through Universal Pictures.