Once written off as a fluff genre, the teen girl film is gaining traction as something to be respected. After Lady Bird, The Edge of Seventeen and most recently, Eighth Grade, we're done with the Cinderella story crap. These films celebrate girls, their friendships, and their passage into womanhood, and it is glorious.
Olivia Wilde makes her directorial debut with Booksmart, a comedy about two best friends on their last day of high school. Having worked their arses off to get into the best colleges, Molly (Beanie Feldstein) and Amy (Kaitlyn Dever) are dismayed when they realise that everyone else got in too – despite spending the last year living it up, partying, and giving little attention to school. They vow to make the most of the night, making their way to a house party, facing various obstacles along the way.
Simply put, it's Superbad for chicks. And while that film was brilliant, we've seen horny male teenagers lust over girls and encounter sexually awkward situations many, many times before. To see young women talk just as openly about sex, in a realistic way, is somewhat of a revelation. Especially considering that the film doesn't take the heteronormative route. Amy is gay and is out, her parents are accepting, she just hasn't hooked up with anyone yet. When she does it makes for one of the best scenes in the film, purely because of how cringeworthy it is and the fact it's something we rarely see in mainstream cinema.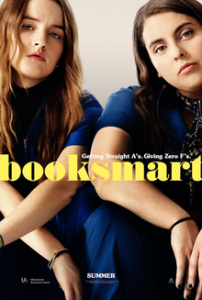 The film's portrayal of female friendship is just about the best you'll see this decade. Instead of the gross "Hey, bitch" communication style of many millennial offerings, Amy and Molly practically fall over themselves to compliment each other. Not in a way that is fake or saccharine, but in a manner that shows how much they love and support each other. There is, inevitably, an argument along the way, but it's all out in the open and not behind each other's bitching backs. Add to the mix some Rosie the Riveter costumes, their use of 'Malala' as a code word, and their cries of "We will persist!" when dealing with their principal, and Booksmart is a feminist's mainstream dream.
Kaitlyn Dever and Beanie Feldstein are exceptional in the leading roles, and are both supremely likeable. It's unsurprising to hear that they are now close friends IRL. The supporting players are all strong, including Billie Lourd as a free-spirited loon, Skyler Gisondo as a nerd crushing on Molly, and Lisa Kudrow and Will Forte as Amy's parents.
Given that the film's marketing emphasises Will Ferrell and Adam McKay's roles as executive producers, it would be fair to assume that it was going to be a big ole dumb ride with little to truly lift it above your standard fare. But Olivia Wilde has knocked it out of the park with a teen comedy that is better than most, given the best ones of recent years have all leaned more towards drama than comedy. The closest comparison is last year's Blockers, which Booksmart clearly surpasses given it doesn't give the lead role to a jacked protective dude (John Cena).
The screenplay by Emily Halpern, Sarah Hoskins, Susanne Fogel and Katie Silberman, is frequently hilarious. The dialogue is on point and there are some cracker scenes including a dream sequence and a bad trip. The laughs are consistent but the film also has a big heart, capturing the teen experience well. The final scene is very reminiscent of Lady Bird but with the clear difference being its focus on friendship rather than family. It's definitely a fun night out for adults, but will be appreciated by older teens too. However, it may not necessarily be a mother-daughter occasion if said teens are easily embarrassed or if mums are prudes. Your best bet is to take your bestie.
Booksmart is in cinemas from 11th July through Universal Pictures.