One of my favourite things that Roger Ebert said was "movies are the most powerful empathy machine in all the arts". It speaks so well to the impact that film can have, but it's just one part of the incredible, even transformative, effect that both watching and making cinema can have.
That power is what makes Peter Medak's documentary The Ghost of Peter Sellers so interesting. What's really impactful is the real reason behind Medak making the film, beyond telling the story of an infamously disastrous production starring and written by two of the greatest comedic minds of their time. For a man who spent his life making films and telling stories, the only way for him to process his past, to work through a story he relives as a 'tragedy' and a 'nightmare', is through the therapy of film.
Medak takes the unusual approach of making a film about a film he himself made – 1973's Ghost in the Noonday Sun. He is interviewed in something he's directing. It's only through this unpacking of memory, of finally saying things out loud, of facing things that he's carried with him for 43 years, that he's able to change things, to free himself of guilt and regrets. It's a quite fascinating use of film as catharsis and closure.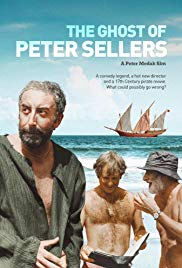 Through footage from the original film, interviews with those involved in the production, and revisits to the original locations, Medak surrounds himself with the ghosts of those who made the film with him. Only with this time and distance is he able to confront the memories of something that almost destroyed his career, led him to walk out of later jobs, and feel lost in his life.
In 1972 Peter Sellers asked Medak to direct his 17th century pirate comedy in Cyprus, scripted by Spike Milligan and financed sight unseen due to the power of Sellers, the greatest comic actor in the world. He jumped at the chance, but things quickly spiralled into chaos from there. Medak underplays his own hubris in his belief that he could manage the film, the script and the notoriously difficult Sellers, but the actor did all he could to get out of the production. Alongside the trouble of a blown out budget and the risks of having 100+ crew working on an old galley at the mercy of the weather and sea, they had Sellers firing the producers, playing up his heart condition, not showing up, and trying to lead a crew revolt. There were nonsensical script changes, fallings out between actors, and accidents on set, leading to a film that was completed but rejected by the distributor, to languish in movie purgatory.
The film delves into the personal problems, jealousy, pressure and loneliness of Peter Sellers, but don't get the wrong impression from the title, this isn't really a film about him. Soundtracked to a score of nostalgia and melancholy, this is a film about the effect that artists like him can have on people, and the ripple effects of their influence even after their deaths. It's about how labels like 'troubled genius' allow men like him to get away with doing things that so profoundly change people's lives for the worse. But it's also about how to forgive, to love someone and still cherish an experience even after all the pain they, and it, caused. It's more moving than expected.
The Ghost of Peter Sellers screens as part of the Melbourne Documentary Film Festival from 19th to 30th July.