The title of writer-director Hlynur Palmason's film A White, White Day, fresh from an impressive reception at Cannes, invokes an Icelandic proverb to introduce an ominous mood. It refers to a day so white that the earth meets the sky and the dead may communicate with the living. Only communication may be specified, but it seems such days can easily lead to a confusion of those two states of being as well. This we find out in the opening moments here when a car skimming through almost impenetrable fog loses its way over a corner and its occupant's life in the process. It's a quiet death, senseless, but its suddenness is no less keenly felt.
The driver is, or was, the wife of grizzled detective Ingimundur (Ingvar E. Sigurðsson), who a few years later is still coming to terms with his widowing. He grudgingly sees a counsellor at the behest of the police force, but Ingimundur is a stubborn one. He expresses little emotion, instead keeping his own counsel, withdrawn and gruff. What little joy in life he gets is from his granddaughter, who keeps him company and gives him purpose while he spends his days keeping busy refurbishing a house for his daughter and son-in-law. When a chance discovery while looking over his wife's possessions leads him to suspect his wife may have been keeping secrets from him in life, his interrogation starts him on a dangerous spiral.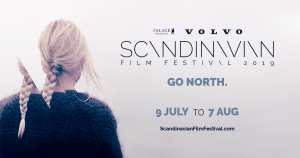 A White, White Day more than deserves all the accolades it is attracting and should be a strong drawcard for this year's Scandinavian Film Festival, which kicks off around the country in July. We've seen already this year in cinemas how Iceland's desolate beauty and unique climate can allow its local folklore to breathe in and out of everyday stories without need for special effects. Woman at War perhaps demonstrated it best earlier this year with Iceland's wild plains becoming a character in and of themselves, a lush haven needing rescuing. Here the seasonal extremes of Ingimundur's remote seaside village feel more adversarial, threatening and destabilising — a setting to be weathered and kept at bay, much like anyone expressing concern for Ingimundur's welfare.
Sigurðsson does a stellar job of conveying a terse internal battle for sanity as Ingimundur begins to question his wife's devotion to him in a relationship he had until now presumed to be beyond question. He owns the camera as Palmason gives us an unhurried account of this man struggling to channel his bottled emotion. The overall trajectory often feels as though it is leading to a grim destination through Ingimundur's intimate wrangling, but the path Palmason leads us on is not altogether realist and marked with scowls and melancholy. At times his focus is uncomfortable, at others comic. And sometimes he is simply content to revel in the harsh beauty of the untamed landscape. Never does it feel scattered or aimless.
Ingimundur's bond with his bold granddaughter Salka (Ída Mekkín Hlynsdóttir) is no small reason for this and is an enduring highlight, with Hlynsdóttir turning in a beautifully natural performance. The sight of Salka finding a captured fish alive and taking it upon herself to laughingly smash its head on the kitchen table to finish the deed is only one of the strange moments dotted through this film to make it appealingly Icelandic — quirky, understated, even a little brutal — but it also shows us why these two are so close and how important they are to one another, both in Salka's upbringing in this isolated climate and Ingimundur's return to life. All this adds up to A White, White Day being a poignant and irregular look into male reactions to grief, helped by brilliant individual performances but even more so by a deft directorial touch.
A White, White Day screens as part of the Volvo Scandinavian Film Festival from 11th to 31st July.