Annabelle Comes Home is the seventh continuation of the Conjuring universe. It's a welcome return to the horror franchise, which seems to go from strength to strength, exploring the intriguing backstory of the the Warrens, whilst also creating a solid stand alone experience.
It's sometime in the 1970s, and paranormal investigators Ed and Lorraine Warren (Patrick Wilson and Vera Farmiga) have just returned home with the possessed doll, Annabelle. Locking her away in their secret room of haunted artefacts, they proclaim her both a beacon for evil spirits and perhaps the most dangerous item within their collection.
Soon after they leave on an expedition, entrusting their budding clairvoyant daughter, Judy (Mckenna Grace), to be babysat by the kind and evangelical teen, Mary Ellen (Madison Iseman). Mary's close friend, Daniela (Katie Sarife), leverages their friendship to get access into the locally infamous home. Driven by a reckless curiosity, Daniela finds her way into the forbidden room of malevolent articles where she manages to disrupt Annabelle's secure case, creating a catalyst for a haunted house experience no one would want to be in. Their small dynamic is expanded when neighbourhood sweetheart Bob (Michael Cimino) picks this night as the opportunity too woo the already enamoured Mary Ellen.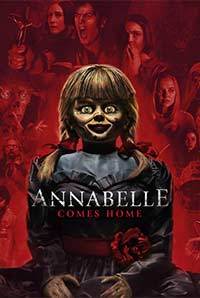 It all sets up for a simple and effective premise: three teens and an even younger medium in a house filled with demonic objects and spirits. The 70s produced some of the most deeply unsettling psychological thrillers in cinematic history: The Omen, The Exorcist, The Wicker Man, Alien. The film eschews the deeply unsettling greatness of the era in which it's set. It doesn't need to be a masterpiece; instead Annabelle sticks with what it knows best – aiming for cheap thrills and jump scares. It's great fun.
First time director Gary Dauberman does great work constructing a horror experience that gets as close to whimsical as possible from a film that manages to scare the pants of you for a good hour or so. Dauberman's credits include writing the original Annabelle (meh) and the prequel Annabelle: Creation (great), as well as the screenplays for the latest It instalments. Gary does a great job with the camera, always inviting the viewer to look past the foreground to the murky shadows behind. It's frightfully enjoyable.
Annabelle Comes Home is a solid entrant into the Conjuring universe, sitting amongst the better installments. Its shortfall is its desire to steer clear of any real depth of themes or willingness to go beyond a cursory exploration of the established universe. Instead it throws tantalising glimpses here and there to the Warrens' past, and relies on non-corporeal demons who never seem to have the tangent ability to do serious harm. But that's fine; it's lighthearted enjoyment that doesn't take itself too seriously and manages to deliver more than a handful of great scares. All the actors do fantastic work; to single out one would be a disservice to the rest of the cast. A great contender for a perfect horror to take a date too see.
Annabelle Comes Home is in cinemas from 27th June through Roadshow Films.