Dystopias are in vogue, and why wouldn't they be when the planet is burning and nobody seems to be doing anything about it? But in an age when series like The Handmaid's Tale and Black Mirror offer us such dire futuristic scenarios, there's something extra special about a film that is brave enough to present a utopian vision. And Damon Gameau's 2040 – a documentary about climate change no less – is one of the most optimistic stories we've seen in years.
Gameau, known for his 2014 documentary That Sugar Film, is the triple-threat writer, director and omnipresent narrator of 2040, a film that highlights the climate change solutions that exist today that promise an alternate future in eleven years' time. From decentralised solar grids to innovative farming practices, to female empowerment, Gameau globe-trots around the world to catalogue some of the most inspiring social, political and technological ideas and hypothesise what these options could look like at a larger scale.
Gameau has already mastered the art of documentary filmmaking thanks to his friends from Cumulus VFX, who convert his strong analogies, technical explanations and utopian visions into delicious eye candy. As a writer, he occasionally makes leaps in his logic or omits a detail or two to keep the narrative flowing but he can't be faulted for the way he makes his audience feel inspired. One or two of the approaches he describes might go over your head, but such is the way he constructs his arguments that you feel compelled to follow his vision and leave your questions behind. It's a wise approach too; his unrelenting positivity not only makes his 92-minute feature a joy to watch but is probably what is needed in such a contested topic where the smallest of objections can leave fence-sitters feeling helpless.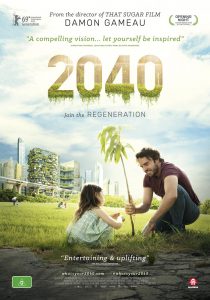 Where Gameau could improve is his on-screen charisma; he's a likeable presence, no doubt, but lacks the charm and personality of other documentary tour guides. It's perhaps unfair to compare him to a seasoned pro like Michael Moore, but given the similarities between his film and Moore's captivating Where To Invade Next documentary – which takes a similar approach of travelling the world in search of revolutionary ideas – it wouldn't hurt for Gameau to study Moore's tapes to learn a thing or two about asserting one's own narrative.
Rather than disclosing many details about himself – aside from the occasional circa-2040 Dad joke – Gameau's intimacy with his audience comes via his daughter Velvet as proxy (futuristically portrayed by Eva Lazzaro). Imagining the world she will inherit in 2040 is an ingenious storytelling device and his repetition of this formula after he analyses each ground-breaking solution allows the film to keep beating along to a comfortable rhythm.
2040 may not be the best documentary of this year, but it's hard to think of a film with more important content. As such, everyone needs to see this film, from politicians and big business owners, right down to children (who are rightly given plenty to say in this film). Indeed, it's the kind of film that demands to be played in schools across the country. At the very least, it's more deserving of the limited release schedule it currently has.
2040 is in cinemas from 23rd May through Madman Films.