Approach William Shakespeare in isolation from his plays and expect to lace your story with a large amount of conjecture. Writer Ben Elton should know this. The comedian in him has already given us a hint as to how much of a grain of salt we should approach this late-life biopic, naming it with a wink to the audience and to Shakespeare fans: All Is True. This was also the alternative title to the Bard's last play, Henry VIII, a production that ultimately ended Shakespeare's writing career when a misfiring prop cannon burnt the Globe Theatre to the ground. The truth is that none can accurately vouch for any of the retirement activities that an ageing Shakespeare (Kenneth Branagh, also directing) had planned, which makes All Is True a strangely plodding exercise in revisionist history.
As Shakespeare's writing career goes up in flames, the most celebrated writer of his or arguably any other age (in the English language at least) returns to his home at Stratford-upon-Avon to find a lukewarm reception. His wife, Anne Hathaway (a curiously cast Judi Dench, 26 years older than Branagh), has him sleeping in the guest room as he has been away so long as to make him a stranger. One of his daughters Susanna (Lydia Wilson) is unhappily married to a puritan but is cheating on him. The other, Judith (Kathryn Wilder), William describes as a spinster, and he laments the loss of the joyful girl she used to be. The last of the family, his son Hamnet, is no longer there. He died years earlier, and while William is only finding the time to mourn him now, everyone else has moved on, leaving William to find his feet on his own.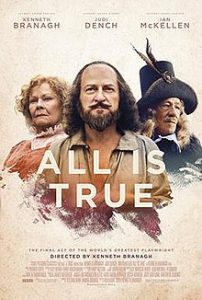 In a story that moves at snail's pace and ranges from gardening to church, from quiet reflection to quibbles over inheritance, it's no surprise that this is a film about retirement. That it is also drenched in small-scale melodrama should also be familiar to those familiar with Shakespeare's catalogue, even if the local intrigue of Stratford-upon-Avon doesn't have quite the scope or prestige as his tales of royalty. It is clear that Elton and Branagh are passionate about their subject, but in placing him in this sleepy atmosphere All Is True so often takes on a tone of pity that someone of his standing would be consigned to a life so mundane after so illustrious a career, and with potentially so much more to contribute.
And so the film, wondering what to do with Shakespeare's remaining days, wanders. Focus moves from Shakespeare's musings over Hamnet's wasted potential, to a scandal involving Susanna's infidelity, to Anne's neglect, to William's suspected homosexuality, to Judith's solitude. And in between all of this William gardens, offering Branagh chance enough to look diligent and contented in his old age. There are enough stories here to fill a village newspaper and yet they do not add up to anything coherent. Add some anachronistic dialogue into the equation and the whole enterprise feels half-cooked.
Performances are roundly fine, if overly reserved, but overall there is an uneasy battle between reverence and condemnation that leaves this slow burn floundering in a way that Shakespeare's plays never did. In search of emotional catharsis, Elton and Branagh at times seem anxious to place Shakespeare as a genius through his writing, and as a progressive champion, such as when as an aside he says he'd prefer women to play female roles on stage. Then at others they seem hardened to condemn his views on women more broadly: roles in marriage, child-bearing obligations and the household — views very much the norm at the time. In the end we're not sure if we're supposed to think William is a self-centred dinosaur or a hero. Are we meant to feel happy for his contentment after a life lived to the fullest, or sad for his family's decades living in his back-turned shadow? It's hard to say. As this is all speculative, best then to admire what we do know — his plays — and draw what we can from that instead.
All Is True is in cinemas from 9th May through Sony Pictures.