Back in 2012 the nation fell in love with Miranda Tapsell, the rambunctious Cynthia in instant classic The Sapphires. After star turns in Love Child and that extraordinary takedown of racism in Australian media on the penultimate episode of the savage ABC series Get Krack!n, Miranda Tapsell has once again teamed up with director Wayne Blair for a love letter to Australia's top end with Top End Wedding. If this film doesn't instantly make you want to head up to the Northern Territory then there must be something completely wrong with you.
Tapsell plays Lauren, an ambitious, albeit clumsy, young lawyer in Adelaide, at a crossroads in her life. After securing a much sort after promotion, her British boyfriend Ned (Gwilym Lee looking rather more grounded than his turn as legendary guitarist Brian May in Bohemian Rhapsody) proposes. Rushing back to her demanding boss Hampton (Kerry Fox) and struggling to contain the excitement, her boss has a moment of weakness at the sight of burgeoning love and gives Lauren ten days to get married, which she will only do at home, in Darwin.
The couple fly up to Darwin to tell Lauren's parents the good news and plan the wedding, only to find that her mother Daffy (Ursula Yovich) has left, and her father Trevor (Huw Higginson) is coping by locking himself in the pantry and listening to Chicago's 'If You Leave Me Now'. Rather than give in, Ned puts Lauren, passed out from her hen's night, in the car and heads to Katherine to look for Daffy.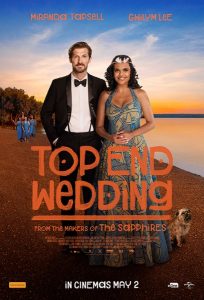 What follows is part comedy, part drama, part road-movie, tracking across the Northern Territory in hot pursuit of Daffy (who seems to be having a midlife crisis) with romantic interludes and scenarios contrived to derail the wedding. The film is a romantic comedy yes – at the heart of the film is the relationship between white Ned and indigenous Lauren – but having grown up in Darwin, speaking only English and very much living in the western world, the film is really about Lauren finding her place in the country. Her journey leads her to the Tiwi Islands where her mother escaped on a fishing boat as a young girl at the beginning of the film, and where, for the first time in her life, she meets her family, learns her culture and her language.
This is an important story and one that has not had its day in the sun of the now 120-year history of film in Australia. Lauren's experience is common, and an experience that ought to be appreciated and understood by audiences across Australia. Family and tradition are important to all people, but the land of this country is part of that, a connection misunderstood by westerners, personified in the character of Ned, ambling along on the search for Daffy and just going along with the "whims" of his wife to be.
The screenplay by Tapsell and Joshua Tyler is a little muddled, at some points the characters act out of character for the sake of narrative progression, but ultimately Top End Wedding is a beautiful, enjoyable film which will find much favour with Australian audiences.
Top End Wedding is in cinemas from 2nd May through Universal Pictures.