There's a tried and tested formula for remaking successful foreign films in English. It's been done many times with classics and independent hits alike. Films like The Girl With The Dragon Tattoo, Let Me In and The Kindergarten Teacher are all recent examples of successful shot for shot remakes. Occasionally a foreign director will have a go at remaking their own work into English: Takashi Shimizu with The Grudge and George Sluzer with The Vanishing. Sebastian Lelio follows in those less trodden footsteps by remaking his Chilean hit film Gloria (2013) into an American story.
Really, this is something he should crush. He's proven his talents in English speaking films and gets a chance to redo something he's already nailed. Throw in Julianne Moore as the title character and it should be a winner. Disappointingly a decent chunk of the magic of the original is lost somewhere along the transition into English.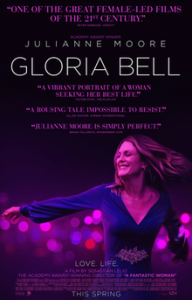 Gloria (Julianne Moore) is a free-spirited independent woman grabbing life by the ovaries. Though when it comes to love and romance she is hamstrung by her own suspect decisions. When giant sleazeball Arnold (John Turturro) meets her in a nightclub the film's story really begins. While initially he's quite charming, he reveals bit by bit his red flags. It's frustrating watching this emotionally intelligent woman repeat poor decisions. Slowly that frustration turns to disengagement at the exasperation of what she continues to see in him. This is perfectly illustrated when after chiding him for being on his phone too much at dinner she spits out a tired cliche: "You've never been to Spain? Let's go then."
The strongest thing the film has going for it is its light hearted whimsy, shot wonderfully by Lelio's longtime collaborator Benjamin Echazarreta. Likewise the soundtrack is a breezy throwback of 70s and 80s ballads. Disappointingly Patti Smith's punk track Gloria doesn't make the track list (its upbeat energy would have been perfect for Moore's character). Instead we have the more polished but still groovy Gloria of Laura Branigan. Moore, communicating a major character revelation through movement alone to that song, is far and away the highlight of the picture. Moore conveys so much with just her body movements and facial expressions that this scene nearly makes up for the rest of the film.
Plenty of the best films are slow burn character studies. But going through the minutiae of Gloria Bell's mixed life isn't one of them. It's just doesn't have enough to engage a viewer. Flaws and warts are what make an interesting character, yet Julia doesn't seem to have enough of them to justify the story. The silver lining is the upbeat positive message of Gloria – no matter how many times she stumbles she will always get back up. Moore rescues much of the picture with her peculiar mix of withdrawn effervescence. Much like last year's hit Roma, if you don't connect with the protagonist, expect to be less than thralled.
Gloria Bell is in cinemas from 25th April through Roadshow Films.