There's never been a film quite like Endgame because the Marvel Cinematic Universe stands alone in the history of blockbuster entertainment. Eventually the superhero genre will have to slow down just like the Western genre did after its golden age from the 1940s to the 1960s, but as it currently stands Kevin Feige and the folks at Marvel studios have achieved a level of storytelling and spectacle cinema unlike anything before. There were 14,000,605 possible outcomes for Endgame;it seems we got the best one.
After the Mad Titan Thanos won Infinity War by uniting all the infinity stones and wiping out 50% of all life in the universe, the remaining Avengers try to rebuild what's left. They lost, and because of it the world is in turmoil. Thanos' plan that the half who survived would come together in unity failed. The only glimmer of hope coincides with the return of one of the lesser known Avengers, hatching a plan so crazy that it just might work.
I first saw Iron Man back in 2008. I was thirteen years old and in my second year of high school. As I sit down to write this I'm about to turn 25. Myself and a generation of young filmgoers have spent their formative years in the company of earth's mightiest heroes. As this journey – twelve years and twenty two films in the making – reaches its crescendo it's hard to think of a better conclusion than the one the Russo brothers have delivered. With so many characters, story arcs, tones and themes to wrap up in one film it's a staggering achievement that they've not only stuck the landing but delivered a film of genuine surprises and finely tuned emotional beats.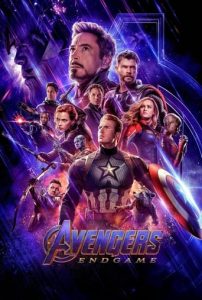 With a running time just over three hours and maybe the greatest cast ever assembled for a feature film, Endgame knows how to deliver pitch perfect fan service yet work on a story that goes in new directions. Of every director that had a shot at a Marvel film Joe and Anthony Russo are the masters, with a script that gives everyone something to do and makes sure all the major players are in touch with their humanity. Even with all the bizarre elements – As Scarlett Johansson's Black Widow points out: "I get emails from a raccoon so nothing seems crazy anymore"- these character feel more human than ever before.
It wouldn't work half as well if there wasn't so much ground already sown. You don't have to have seen every MCU film to understand what's happening but it enhances the experience ten-fold. So many little details pay off dividends because of the time we've already spent with these characters. It's unlikely there will ever be a situation quite like this; so many studios are trying to get interconnected cinematic universes off the ground but Marvel were the first and so far the only ones who have mastered it.
While its hard to gauge what the average filmgoer will make of all this, for fans who have invested a decade of our lives into this franchise we couldn't ask for a better farewell. The final fifteen minutes are perfect. As a standalone film it's an immensely satisfying three hours that never feels its length, but as a moment in cinematic culture that wraps up a ten year grand plan: it's an unparalleled, once in a generation achievement that we'll likely never see again.
Avengers: Endgame is in cinemas from 24th April through Disney.