Director Terry Gilliam returns with The Man Who Killed Don Quixote, his latest feature film and the one he has been trying to make for 30 odd years. Based on the novel Don Quixote, Gilliam and co-writer Tony Grisoni resituate the tale of the knight to the contemporary.
Toby Grisoni (Adam Driver) is an advertising director, struggling with his latest work – a spin on the Don Quixote tale. After a long day filming in the Spanish countryside, Toby and his crew meet at a local restaurant to plan their next moves. Toby is aloof and disinterested, a playboy enfant terrible, impatient with instructions or advice. The Boss (Stellan Skarsgård) encourages Toby to rethink his attitude, and procures him a bootleg copy of Toby's own black and white student film, also titled The Man Who Killed Don Quixote.
Inspired by his own earlier work, Toby flees the set to revisit the village where he filmed as a student and aspiring filmmaker. He meets several of the villagers who he worked with at the time, and eventually stumbles across Javier (Jonathan Pryce), the shoemaker he used as his star. Javier believes himself to be the real Don Quixote de le Mancha; a knight and nobleman, fighting dragons and other foes, irresistible to women, unrivalled by other knights. Javier also believes Toby to be his trusted squire Sancho. After inadvertently finding himself on the run from the police, Toby follows Javier on his 'quest', which leads Toby deeply into the realm of fantasy.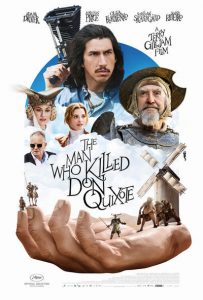 The Man Who Killed Don Quixote has Terry Gilliam stamped all over it, with elaborate sets and costumes, and a narrative moving from fantasy to reality. Visually the film is stunning, Gilliam clearly prefers to use sets and props as much as possible, rather than relying on CGI. Although this might seem an out dated and cumbersome mode, the craftsmanship of the Gilliam film is incredible.
Unfortunately, The Man Who Killed Don Quixote is something of an overindulgence. The film is over two hours long, but also around 25 years late – an acknowledgement the director makes in the opening credits. The narrative is simply too long and clumsy; although there are some astonishing fantasy sequences there doesn't always seem to be enough to string them together. There is a distinct feeling in viewing the film that the filmmaker was unprepared to let anything go.
It's been ten years since Gilliam's previous film, The Imaginarium of Doctor Parnassus. This was also made in fraught conditions, with Gilliam loosing his star part way through production. The death of Heath Ledger was a real blow, but Gilliam salvaged the film with the help of several actors and reworked the script to keep Ledger in. This was an instance of filmmaking triumphing over adversity.
In an episode of life imitating art, perhaps this quite personal project is more a case of Gilliam tilting at cinematic windmills, rather than an example of his wide and varied talents showcased.
The Man Who Killed Don Quixote is in cinemas from 11th April through Umbrella Films.