Burning is (forgive the pun) a slow-burn. It is loosely based on the short story 'Barn Burning' by eccentric and celebrated Japanese novelist Haruki Murakami, but significantly expanded upon. Director Lee Chang-Dong, along with screenplay co-writer Oh Jung-mi, has crafted a film which is stylish, restrained and mysterious. Its themes – youthful ennui, masculine jealousy, aimlessness – are explored and depicted with an enigmatic simplicity, one that is somehow both lucid and opaque. And whilst its meandering pace, especially in the film's second half, may frustrate some, there is enough ambiguous tension and beguilingly beautiful cinematography to sustain, and reward, more patient viewers.
Lee Jong-su (Yoo Ah-in), an aspiring writer who supports himself through various menial jobs, is a bit directionless. One day, he happens to run into Shin Hae-mi (Jeon Jong-seo), an old classmate of his. They catch up and have a one-night stand. Soon after, Hae-mi informs Jong-su that she is going to Africa for a holiday, and asks him if he could feed her cat while she is away. When she eventually returns, she introduces him to Ben (Steven Yeun), whom she met when they were stranded at an airport. One evening, after they have spent the afternoon together and Hae-mi has fallen asleep, Ben confides in Jong-Su his unusual hobby: every two months or so, he burns down a greenhouse in the countryside. This is just one of the film's many puzzling elements. Afterwards, the film becomes a sort of tense romantic triangle, but one that does not play out in the expected ways. The film becomes a strange, yet grounded, reverie – there is not enough information provided, and yet the feeling that something more sinister lies just beneath the surface is palpable but hard to justify.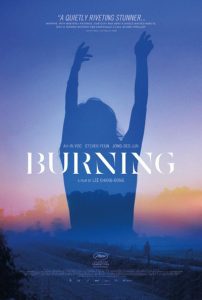 What is perhaps most distinctive is the film's mood. 'Burning' works on two levels, and both are infused by an insistent ambiguity. The first is literal: Ben's strange habit of burning greenhouses. The second is atmospheric: each of the film's three main characters is an enigma, and each seems to 'burn' at different intensities. Hae-mi is impulsive yet melancholy, and we (and she) are not entirely sure why. Ben emanates an effortless and sophisticated cool, but his repeated yawns barely conceal a wearied indifference to it all. And Jong-su is initially aimless, and then restless, fueled first by his burgeoning affections for Hae-mi, and later the resentment and suspicions he harbours towards Ben regarding his wealth and his closeness to Hae-mi. Nevertheless, they all remain, in their own unique ways, difficult to read. The cinematography visually complements this – with its lingering gaze it too seems to gesture towards the motives and feelings which go unrecognised, unspoken, unexpressed.
Towards the end of the film, especially in the final third, the plot becomes frustratingly elusive, and its lingering, protracted pace may exasperate some viewers. But this pace is deliberate. Tension emerges from the unrelenting doubts engulfing the characters, especially Jong-su. Chang-Dong does not feel obligated to completely reveal everything. But his refusal to do so means that those viewers who are willing to invest more – more attention, more patience, more latitude – may feel that ambivalence is its own type of reward.
Burning is in cinemas from 18th April through Palace Films.