It is not outrageous to proclaim that Disney rules the animated world, and their CGI sister Pixar traverse the divide between films for children and films it is okay for adults to cry at. And while many competing studios have attempted to enter this lucrative arena, few have ever succeeded. Nickelodeon's latest big screen school holidays release is attempting such a feat with sad music, themes and all. Wonder Park is the story of June (Brianna Denski) a rambunctious young girl who has invented a magical theme park called Wonderland. Encouraged in her passion for the park by her parents, she fosters a talent for engineering which engages all the kids in the neighbourhood, while almost destroying it. Rather unusually she is not punished by her parents but further encouraged to take over the entire family home with miniatures of her fantastic rides, until a montage of this reveals her mother to be very ill and doing her best to give her daughter a loving, happy childhood.
When Mom (Jennifer Garner) goes away to hospital to get better, June starts to be more responsible, packing up Wonderland and taking care of her dad (Matthew Broderick). Worried about how his once imaginative vivacious daughter has changed, Dad send June off to Math camp to have fun with her friends, only for her to run away through the forest to get back home. Here she discovers that Wonderland is real, complete with all the crazy rides and furry little friends she invented with her mom, but the park is being destroyed by the darkness.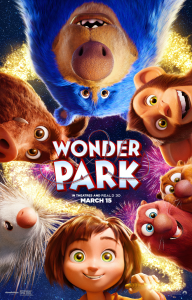 This is of course a very thinly veiled metaphor for depression and how we as individuals deal with trauma in our lives, and it makes for a fun, thrilling, edge of your seat adventure story complete with anthropomorphic soft toys hell bent on destroying everyone and everything in their sights. The voice of Mila Kunis as Greta the loving, supportive hog lends some real tenderness to the film, and John Oliver true to form as the neurotic, safety conscious porcupine with a wealth of fascinating insights into many disparate topics. (This, for fans of Oliver's late night offering, was a big missed opportunity to cast the loveable Brit as a raccoon.) However for Australian audiences, the voices of Gus and Cooper, the beaver brothers, have inexplicably been dubbed by Fitzy and Wippa (who I'm assuming are some sort of local celebrities?) whitewashing the only two minority voice actor's in the main cast, as American audiences enjoy the vocal styling's of comedy icons Kenan Thompson of SNL fame, and Ken Jeong, known for Community and The Hangover, among other things.
Wonder Park is a fine film, there are some genuine laughs to be had (June's best friend Banky (Oev Michael Urbas) adorably has his name spelled out with mathematical symbols by his large Indian family as they wave him off to Math camp) and it won't be unenjoyable for parents taking their kids to a screening during the school holidays. There are also some great messages about not growing up too fast, and encouraging STEM interests in young girls. But the overarching theme of the film is dealing with depression, which is something Pixar did much better with Inside Out, and the comparisons unfortunately cannot be avoided. It has however been a number of years since that film was in cinemas so it is good to see themes of dealing with mental illness are once again front and centre for a new film-going generation.
Wonder Park is in Australian cinemas from 4 April through Paramount Pictures.