Two decades after it was filmed, Celebration: Yves Saint Laurent, Olivier Meyrou's brilliant fly-on-the-wall documentary celebrating the last of the great couturiers of Paris, is finally getting it's time in the sun following the death of Laurent's life and business partner Pierre Berge, who, for reasons which become obvious upon viewing, objected to the films release. In the grand French tradition of French documentary filmmaking, director Olivier Meyrou has painted a beautiful and disturbing portrait of a fragile genius at work on his final collection, cigarette always in hand, and those who have surrounded him throughout the successful fashion house's tenure.
Long, still, black and white shots of Laurent, head in hand, pencil hovering above paper or staring stoically at his work in it's near complete state, frame the legendary designer in the lens of a genius, lost in a fugue of creative concentration, oblivious to the tittering and working going on around him. In colour, interacting with his staff, his models, his admirers and his closest advisors he appears almost as a child, murmuring utterances of astonishment at the beauty which surrounds him, but otherwise recoiling to the corners or any social situation. Following the direction of Berge and accessories designer Loulou De La Falaise who reintroduce him to people, direct his movements as if he could not see, and generally seem to fear and condescend him simultaneously, Laurent seems more comfortable in seclusion, preferring his work to speak for itself.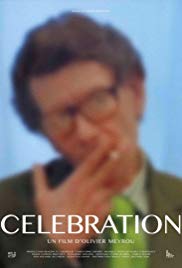 Intercut with brief interviews where he discusses the success of his designs and his place in the canon of couture fashion houses in Paris, most of the talking is done by Berge, once his lover, but at the time of filming just his business partner. Berge tempers the expectations of those who want Facetime with the icon, discusses his habits with the filmmakers, and in a bizarre toast on Laurent's birthday tells him to his face that he is a recluse who has retreated from the people around him and sacrificed his life to his art, to which everyone raises their glasses as if this is something to celebrate.
Celebration is an incredible insight into the life of a man at the end of his career and, as it turns out, life, quantifying his contribution to his art and his place in a changing world. It is also a fascinating look at the people who gravitate toward talented people and how they live in plurality; admiring and patronising Laurent, complaining about his precision and meticulousness, and seeking his sought after stamp of approval. A worthy film experience, even if just for the scene-stealing moments when two of Laurent's now retired seamstresses are revisiting the office where they worked, sneaking in to his final show, and reminiscing about each of their contributions to the astounding collection of an iconic couturier.
Celebration is screening as a part of the 30th Alliance Francaise French Film Festival.