The setting for a film titled Woman at War in any other country would almost be self-explanatory, but in Iceland you can be assured they depict their battles rather differently. The woman in question is a forty-something climate crusader notorious in her attempts to thwart the local aluminium industry. Armed with a bow and arrow, she can occasionally be found bounding across the vast green swathes of Iceland's sparse but spectacular countryside taking down powerlines, but no-one has yet. To everyone but herself and her informant within the ministry, she is merely known as the 'Mountain Woman'.
If the authorities had half a clue, they would know that this hard-nosed campaigner is actually an unassuming choir leader called Halla (Halldóra Geirharðsdóttir), whose ultimate goal is the collapse of a multinational's plans to build a new smelter locally, an all-consuming mission that requires anonymity, planning and dedication. But when a years-old adoption application is conditionally approved out of the blue, her war against the the aluminium industry becomes a battle against time. Save the country, then the Ukrainian orphan.
Benedikt Erlingsson (Of Horses and Men), who directs and co-wrote the screenplay with Ólafur Egilsson, has created a gently surreal vision of the climate wars that is at once ambitious and modest—a description that could just as well apply to Halla herself. Taking a lightly comic tone, this is an inventive film that tackles big issues with grassroots resources. No special effects needed (well, maybe a few), just a determined woman keen to see her country remain unblemished. Though to say this is a film only about climate change is selling it short. The war in question is also an internal one as Halla's conflicting priorities in life—to her country's landscape and to her soon-to-be child's welfare—are put to the test. Doubt begins to creep in as to whether her current circumstances make it possible for her to do both.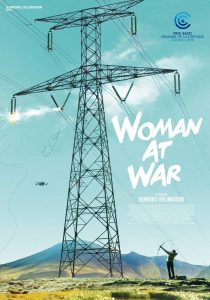 This state of confusion is made stark amid the blustery landscape surrounding Halla by some vivid cinematography and some delightful visual flourishes that overlay what could otherwise have been some very earnest plotting with sensitivity, humour and a sense of ridiculous. A Spanish tourist seems always to be in the wrong spot at the wrong time, unwittingly getting caught up in the wake of Halla's trail of sabotage. Halla becomes aware of the damning headlines about her actions while walking home down a street of open-windowed apartments. And everywhere she goes she is accompanied by one of two musical trios: first a traditional Icelandic folk group, who become part of the landscape, out there on the plains looking slightly perplexed as if they've been summoned to the middle of nowhere only to be abandoned; and second a trio of Ukrainian singers, who arrive soon after Halla is advised of the young girl awaiting her abroad.
These musical interludes, in particular, help to give off a pantomime aspect to Erlingsson's Iceland, giving a tuba-heavy soundtrack to Halla's dashes in escape from the eyes of drones and helicopters. At times you almost wouldn't be surprised to see John Cleese in a suit commentating from a news desk, but thankfully Woman at War resists the temptation to go into the absurd to that extent. Even the use of an identical twin sister, Ása—a cheery yoga teacher about to join an ashram in India for two years—would seem a formulaic trope to employ, but the sheer optimism and idealism of the pair, played opposite each other by Geirharðsdóttir—so alike in their idealism yet so different in the execution of it—only serve to enhance the charms of a film that, despite its chilly setting, is filled with nothing but warmth.
Women at War is in Australian cinemas from 4 April through Hi Gloss Entertainment.