Speaking from personal experience: when you're an only child growing up in country Australia imagination is one of the most important things there is. As the tagline for the new feature by director Tony Prescott tells us, it's a "terrible thing to waste" and if this lovely film is anything to go by, the people that made it sure haven't wasted theirs.
Set in rural Queensland on a cotton farm, Charlie (Geraldine Hakewill) has spent her entire life in the company of two men. Her father (David Field), the kind of impassive farmer that only remote Australia can produce, and Hugo (Michael Whalley). While her paternal bond isn't always good, her lifelong friendship with Hugo is as warm as can be, complicated by only one thing – Hugo is her imaginary friend.
Living in such an isolated place hasn't been easy on Charlie. She's an outcast in her hometown and her only company for over twenty years has been an angry cotton farmer and a figment of her imagination. Things change after she meets a handsome stranger (Benedict Wall) at the local pub, setting off a truly unique love triangle between Charlie, the first man her age she's ever been on a date with and her imaginary friend who has fallen in unrequited love with her.
This project has been slowly brewing over seven years and now that it's finally arrived, the love that went into it is visible in every frame. The Pretend One is a wonderful film, the kind of experience that reminds you just how good this country is at 'coming-of-age' dramas and shows off some of the raw talent in our current generation of local actors.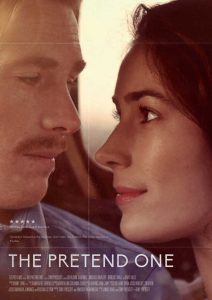 Films about imaginary friends are nothing new. Drop Dead Fred and Bogus come to mind, and in terms of local features it bares quite a resemblance to Barry Jonsberg's 2011 novel Being Here. However the story, written Prescott and James Raue, ends up a perfectly balanced mix of whimsy and emotional drama. Brought to life with wonderful chemistry between Hakewill and Whalley, the relationship at the centre is one of the most charming couples that Australian film has ever produced. It's genuinely romantic without resorting to the tweeness that the story could have fallen into, and like a lot of Australian cinema it isn't afraid of exploring the darker shades of the premise. It so easily could have gone awry – so many Australian films struggle with tone – but it walks the tightrope and doesn't put a foot wrong.
The great discovery is Geraldine Hakewill. Having previously worked on a few local features, her presence here marks her out as one of the great new talents of Australian film. She has the most wonderful presence on screen, the camera loves her and she radiates off every frame. Supporting work by Whalley and especially David Field is strong, but the film belongs to her. If she isn't inundated with roles after this the filmgoing community will be poorer for it.
The other great take away is Robert C. Morton, whose cinematography is extraordinary. There's a unique beauty to country Australia and he's has captured this part of remote Queensland beautifully. Alongside performances and tone the film looks utterly gorgeous, a winning trifecta.
It must have been a hard journey for Tony Prescott, but his efforts over those many years have paid off. The Pretend One is a brilliantly realised piece of homegrown cinema that soars on the strength of the photography and Hakewill's performance. A stunning achievement in local filmmaking that shouldn't be missed.
The Pretend One is screening across Australia. For more information click here.