Perhaps you've fancied yourself as a Scrabble player at one point or another, but chances are you haven't sampled the vocabulary (or lexicon) that the elderly widow Alan brings to the table in Sometimes Always Never. At first fascinating, before long infuriating, he is the classic know-it-all. Because he's played by Bill Nighy we'll forgive him. Alan has all the mischievousness that a mere Nighy smirk can convey, boasting a worldly intelligence from an adventurous life long passed. Everything about him, even his car, feels like a memento — his suits, his car, his dim hope that his missing son Michael might yet be alive — harking back to a time in his family's life he could call complete.
This overlay of melancholy hangs in the slate-grey English winter as Alan arranges to meet his other son, Peter (Sam Riley), by the sea. For a time Alan tries to converse with a stone-faced ice cream man and then waits, gazing out at the sand flats and becoming one with Anton Gormley's vast collection of lone sculptures staring grimly out to sea (the sculptures are in Merseyside and called 'Another Place', look it up). As Peter arrives they take Alan's car through a painted animation jaunt through the countryside to their destination. It's a bizarre opening sequence that is sadder than it is funny, but it taps into the quaint eccentricity that Alan has fostered over the years. How else to keep the demons at bay?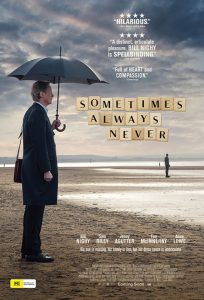 There are shades of Wes Anderson in debut director Carl Hunter's style, but the roots of this film are much more contemplative than anything of Anderson's signature flair, focusing not on quirks but rather the words they mask. Sometimes Always Never centres on a family that can't communicate, whose words have been best chosen through the Scrabble board. 'Play the man, not the board', as Alan says. This is uncomfortably apparent between Alan and Peter as they visit a morgue to see whether a body is Michael's. There's Alan with his defiant hope of reviving the prodigal son, and Michael exasperated by his father's inability to face facts and accept what he has. But this stubbornness now also manifests in Peter's own family, despite the best efforts of he and his wife Sue (Alice Lowe) to coax Jack (Louis Healy) out off his computer.
Picturesque and gentle, Frank Cottrell Boyce's script is a thoughtful and amusing meditation on loss and neglect and the isolation of grief, themes he has explored before and even not too recently in Goodbye Christopher Robin. For a screenwriter with such a strong reputation, it is also fantastic to see him collaborating with a newbie like Hunter. It's all clearly worked off a small budget, and while it works for the most part, the drawbacks also show at times. The sound editing can be clunky, and some scenes don't quite gel. On the whole though the film's simple aesthetic fits with the patient and cautiously upbeat story of a small family's reconnection, spliced with flashes of animation and illustrative photographic stills.
The overall effect is quite old-fashioned, as if rural England harbours a world of yesterday for anyone who doesn't want to move on, and at times it is if we're seeing Alan and Peter's past through a Kodak Carousel. But this is to the advantage of Sometimes Always Never, which never lets nostalgia overpower its light touch and will to humour. Performances are roundly strong, with Sam Riley a likeable lead and Alice Lowe delightful, but the kudos has to go to Nighy, who has rarely looked as at home in a role as he is here.
Sometimes Always Never is in cinemas from 14th March through Transmission Films.