Professional wrestling is a divisive form of entertainment, to say the least, and there is no doubt that some critics of the sport will duly avoid Stephen Merchant's Fighting with My Family without a second thought. But close-minded wrestle-sceptics don't know what's good for them; the lanky Englishman's sophomore cinematic release is a satisfying surprise packet that shouldn't be forsaken just because it has a WWE-approved endorsement.
Unlike his partner-in-crime Ricky Gervais – who one suspects would love to satirise the institution of world wrestling championships – Merchant is empathetic towards both the sport and those who love it. This earnestness and lack of cynicism is one of the things that makes Fighting with My Family a likeable comedy-drama with plenty of heart.
The story begins in Norwich, England, a humble town where Ricky (Nick Frost) and Julia's (Lena Headey) amateur wrestling company captures the imagination of the locals and literally keeps kids away from drug dealing. Their two star performers are Saraya (Florence Pugh) and Zak (Simon Pegg lookalike Jack Lowden), the son and daughter duo trained to be wrestlers since they were born.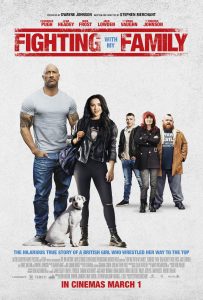 The film encounters its Sliding Doors moment when Paige (Saraya's new moniker) is accepted into the WWE's next generation program, but Zak is not, leaving them both in a position they didn't foresee. As Paige is trained to become a star, Zak is left to wallow in the banality of Norwich life and the bleak prospects offered by such a lifestyle.
In some ways, this is a plot we've seen before with familiar tropes, but what Merchant, who also wrote the film, does so effectively is make us care about the key characters. He encourages us to look beyond the façade of wrestling to take Paige and Zak's problems seriously, as though they were our own.
With Paige's journey, Fighting With My Family at times feels like the Whiplash of wrestling, with a sardonic Hutch (Vince Vaughn) pushing Paige and other wrestling wannabes through relentless bootcamp-esque training drills to unearth their potential. But just as Whiplash isn't really a film about drumming, neither is Fighting with My Family really a film about wrestling. Rather it's an essay on obsession, on family, on loyalty, and on one's desire to push through the barriers to achieve all they ever wanted.
While there are moments of hilarity scattered throughout this story, and a few wholesome cameos from Dwayne "The Rock" Johnson, Merchant never lets that distract him from hitting all the right beats in the script – whether that be giving big decisions to his protagonists, pushing them through learning curves, or illuminating their motivations. It's an unexpected masterclass in simple but effective screenwriting, proving that even the least convincing of premises can be transformed into a delightful film.
Fighting with My Family is in cinemas from 21st March through Universal Pictures.