The film opens in black and white on a secluded beach at night. A young man narrating the sequence is saved from a lion with the head of a man by a group of fellow young men. Fireworks explode around the rocks. The boys begin to cannibalise his body and a lone breast falls from his shirt. The narrator explains his life has not always been like this. It got my attention.
The story comes from the mind of French avant garde director Bertrand Mandico who directs and writes this. His credit is not for screenplay or story as usual but instead listed for scenario. A little bit pretentious but deserving for such a unique creation.
The story revolves around a group of five boys who commit a horrible sexual crime against their teacher culminating in her death. Their aristocratic parents determined to set the boys straight enlist the help of a grizzled dutch sea captain. The captain (Sam Louwyck) takes the boys out to sea with no guarantee of every boy returning alive; the only promise he makes is that they will return benign, respectful citizens.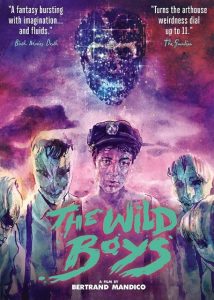 The boys are chained to the ship and slowly broken in like wild animals. Not long into the journey the sea captain takes them to a supernatural island of earthly delights and surprises. Despite their harsh treatment the boys remain rambunctious and sexually charged. The captain takes them hiking; after a day it becomes apparent the island is transforming the boys into women. At different stages they grow breasts (the cast of boys are all played by biological women), and soon after their male organs fall off like overripe fruit from a tree. Throughout the film the island is frequently compared to an oyster, an aphrodisiac known for its ability for the males to transform to female.
Accompanying this plot is symbology and metaphors squeezed into every frame. Of course nearly all of it is phallic and yonic. In one vivid sequence the boys all drink from a tree with penis-like appendages spurting milky liquid they describe as heavenly. Afterwards one of the boys strips naked to make love to a bush with female anatomy. It's a sequence representative of a film that has plenty of strong artistic statements on gender. It also deserves a warning that even open-minded viewers might find this a tad salacious.
This is an interesting transgendered twist on Lord of The Flies. It's near impossible for any story to be unique but Mandico certainly gets as close as you can to that target. Likewise the cinematography from Pascale Granel stands out from his contemporaries. It transitions seamlessly to colour at fever pitch moments with plenty of throwbacks to classic surrealism. Their are small flaws to iron out, but it will be interesting to see what both of them do with better budgets and more experience.
At its heart The Wild Boys is a bizarre exploration of the role of gender primarily around sexual violence. Initially the film begins as subversive and phantasmagorical. Towards the end it becomes something more disappointingly overt and even mundane (by this film's high standards). The once mysterious island becomes a more lucid environment. In for a penny in for a pound; if you're going to make a film filled so heavily with wtf substance I want an outlandish finish to match.
The Wild Boys screens as part of the Alliance Francaise French Film Festival from 6th March to 10th April.