Asghar Farhadi has done everything right for Everybody Knows —almost. He's got the postcard-perfect rural Spanish town, the star-studded cast, the promising and pulsing trailer, and a catalogue of critical acclaim to drum up fanfare for a drama-thriller haunted by the spectres of long-buried secrets. It's a pity then that what drama Everybody Knows might throw up in its chorus of searching cries is rarely, if at all, thrilling.
The basic premise is a popular one at the moment: a disappearance. There's something about a disappearance that screenwriters for television and cinema have discovered creates tension and reveals character more than a mere murder does.
Indeed Farhadi gives us the kind of vacation nightmare that most parents would dread, with Penelope Cruz dealt the unenviable role of Laura, whose daughter is kidnapped while the extended family reunites for a wedding in their old home town in Spain. What was supposed to be a happy occasion soon turns desperate as the family scour the town with the help of an old friend, Paco (Javier Bardem). As the situation becomes more dire, old secrets long buried threaten to surface and open old wounds.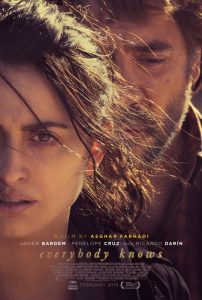 Given Farhadi's prior efforts, Everybody Knows seems a feeble one with little to recommend for post-credits musing. If this is Farhadi's idea of a fun venture into B-movie storytelling, he is out of his comfort zone. At 132 minutes this film has none of the urgency to sustain a thriller and all of the angst. All of the secrets, but none of them surprising.
Of course the title of this particular film is unfortunate in this sense because it can be turned against it in so many ways. Everybody knows a family get together for a wedding in a film universe cannot be a fundamentally happy one. Everybody knows someone is going to end up on top and someone beneath. And unfortunately if everybody doesn't know exactly how this will play out, everybody will know thirty minutes too soon.
If it isn't as engaging or thought-provoking as we might expect of a Farhadi film, then it is at least superbly acted. Who could expect any less? After all, everybody knows Cruz and Bardem are A-list performers who between them imply an overload of sensuality. But even that cannot save this film from its languorous pace and fairly unremarkable revelations.
Everybody Knows is in cinemas from 7th March through Universal Pictures.