The Sisters Brothers doesn't look like the kind of film you'd expect to find at a French film festival. Indeed, this Western shoot-out, set in the west states of the United States with four Hollywood actors in leading roles, not only looks and feels like an American product but something we've seen many times before.
Thankfully, The Sisters Brothers – directed by Frenchman Jacques Audiard and based on the book by Canadian novelist Patrick DeWitt – reveals itself to be far removed from the goofball comedy it makes itself out to be in its happy-go-lucky trailer, and more nuanced and thoughtful than your average Western cowboy flick. But it doesn't always feel this way.
The titular siblings are Charlie (Joaquin Phoenix) and Eli (John C Reilly), a tag team of ruthless hired killers, unafraid to shoot anyone in their way so long as there's a dollar value on it. Their mission at hand, given by the elusive 'Commodore', is to track down Hermann Warm (Riz Ahmed), a gold prospector with a groundbreaking concoction.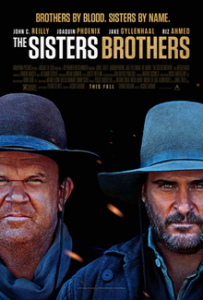 Anyone familiar with Phoenix and Reilly don't need to extend their imagination very far to visualise what this partnership might look like. Phoenix seldom deviates from the default character he's known for – an alcoholic mess with a short temper and crude sense of humour. Similarly, Reilly plays Reilly, an earnest and bumbling sidekick who may as well be playing the reincarnation of his iconic Step Brothers persona.
When this duo aren't on screen, Warm and John Morris (Jake Gyllenhaal) are a more dynamic combination. While this genre doesn't suit Gyllenhaal as much as thrillers, his relationship with Warm at least ensures something interesting is happening in an otherwise lifeless first half.
The shape of The Sisters Brothers evolves in the second half. Setting starts to play a more relevant and symbolic role, thematic ideas begin to reveal themselves, and engaging dialogue clarifies the ambiguous motivations of the seemingly one-dimensional characters. Meanwhile, Audiard's direction becomes more noticeable via some stylistic flourishes while Alexandre Desplat contributes an eclectic score. The Sisters Brothers doesn't necessarily resemble a French film, but it ceases to resemble an American film. Indeed, by the final scene, the film looks nothing like it did when it started. The second half doesn't justify the first half's meandering, but at least it rewards the audience for their patience.
The Sisters Brothers screens as part of the Alliance Française French Film Festival from 6th March to 10th April.