Based on real events that occurred the Easter of 2015 within London, King of Thieves imagines the recent heist with a stellar cast of greying British veterans. Coming hot on the heels of 2017's  Going in Style and 2018's The Old Man & The Gun it feels a safe bet we'll be seeing Pitt and Clooney pull off heists again in two or three decades.
The story begins with the passing of Brian's (Michael Caine) wife, emotionally shoe-horning sympathy for the new widow à la the first ten minutes of Up, though it's not nearly as effective at garnishing sympathy as Pixar. At his wife's funeral Brian's old friends swap crook stories from the old days to his mild dismay. The baby of the cast Charlie Cox, going by Basil, hovers around trying to get a word in edgewise with Brian.
Once alone Basil lets Brian know about a loosely protected vault of jewellery he has discovered in his day job as an electrician. The two aren't overly familiar with each other, and Brian is clearly looking for some experience and man power to pull off such a big heist. Despite their advanced age Brian and his cohorts are more than up to the task, pulling off a fairly audacious heist lasting two nights over an Easter weekend.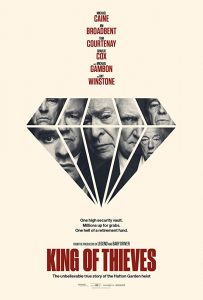 As crime heists go, this is a film that is happy to follow a well trodden path and not rock the boat of originality. It's a lacklustre affair that goes through the motions with the added novelty of regular insulin injections, naps, and frequent urination – the latter element heavily relied on for 'comedic effect'. By no means is the film awful; it just coasts in one gear. If it was a Pokemon it would be Metapod. If it was a Nando's spice it would be the zesty lime one. If it was Neapolitan ice cream it would be the vanilla section.
If pushed for a reason to go see this one it would be purely for the cast. Initially they all do tired variations of old man bumbling – complaining about the internet and not understanding eBay. But after the heist is completed the apathy dissipates and the tone becomes decidedly dark. In particular, Caine, Ray Winstone and Jim Broadbent get nasty. It's not unusual seeing Winstone doing hard man but it's unnerving seeing the lovable Broadbent do Vinnie Jones so successfully.
Inevitably the constant quibbling and sloppiness is their downfall. I'm not too sure whether director James Marsh was venerating or condemning the characters here. News reports speak to how incredibly well organised and efficient the criminals are, but it's debatable. It's an anticlimactic ending for an anticlimactic build.
King of Thieves is in cinemas from 28th February through Studiocanal.